The wonderful world of vehicle racks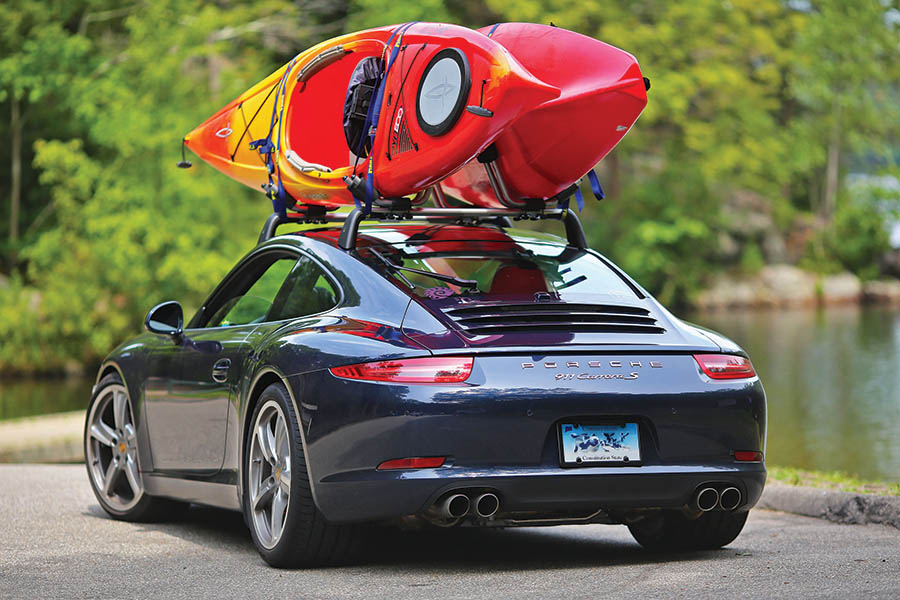 When it comes to cars, there's no such thing as too much cargo capacity, whether we're talking about a convertible or a minivan. If you're feeling strapped for space, a vehicle rack might be the answer. As rack retailer Rack Attack tells us, there is a model to solve virtually any transportation need.
Types of racks
Roof rack: mounts to the top of the vehicle using rubber "feet" that clamp to the outer roof edges, or directly onto the factory rails found on most vans and SUVs. This is a particularly versatile system thanks to the almost endless array of attachments, suitable for accommodating everything from skis to kayaks.
"Roof racks are pretty versatile — they add way more carrying capacity to your vehicle and improve options for bringing your belongings with you from point A to point B," says Rack Attack staffer Sam Dabrusin, adding there is a wide array of attachments to accommodate everything from skis to kayaks.
Average cost: $$$
Trunk rack: attaching via mounts that hook onto the truck lid, this is a great low-cost and convenient solution for hauling bikes. Keep in mind while installed, it may interfere with access to the trunk.
Average cost: $
Hitch rack: works with any hitch-equipped vehicle, it typically utilizes a ratchet system to install and is perfect for loading one or several bikes. Make sure to pick the correct receiver size and note the maximum weight limit of your hitch.
Average cost: $$
Spare tire rack: affixes overtop the spare tire bolted to the rear door of SUVs using an adapter plate, this rack style makes loading bikes an easy task although there is usually a two-bicycle limit.
Average cost: $
Truck bed rack: there are a few installation methods for truck-designed racks, like one that locks onto the bed rails allowing up to four bikes to be carried upright. While it may take up a lot of room, you shouldn't have to worry about scratching either set of wheels.
Average cost: $
If moving smaller items, consider picking up a cargo box or bag that can be strapped directly to roof racks or to hitch and trunk racks using special attachments. Both universal and manufacturer-specific varieties are available. And here's an odd factoid — lighter colours, which attract less heat, are often more expensive than the common standard black examples.

General tips
• If you're taking a trip to the backcountry and are planning to load up a full carload of people and gear, be mindful not to exceed your vehicle's payload limits as the weight may overstress the tires, suspension, transmission and/or engine.
• Not all equipment is created equal. Before heading out, inspect that your bicycle, board or canoe is safely clamped down.
• When purchasing a rack, anticipate future needs. For instance if you're only transporting two bikes now, you might scale up later on and it will be easier and more cost effective to already own a rack built for four, rather than having to sell a smaller unit and buy a bigger model.
• Using a trunk or hitch rack? Tie the tires of two bikes together to stop them from bumping into one another during the drive, and wrap a soft towel or cloth around particularly delicate sections of the frame.
Parting thoughts
• Always get help when loading heavy items, especially onto a high surface like the roof. Double check that everything is secured tightly to prevent cargo from flying off while driving. When not in use, try to remove any extra cargo, which can negatively affect fuel economy and handling.
And finally, take extra care in putting the rack on the vehicle. Sometimes, it's just a matter of reading and following the instructions thoroughly and taking your time to go through the process, even if it seems straightforward.