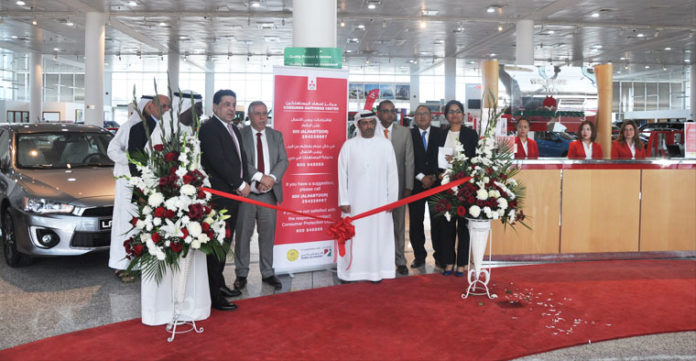 Al Habtoor Motors, in co-operation with the Dubai Economy, has opened 'Consumer Happiness Counter' at the Mitsubishi showroom on Sheikh Zayed Road. The initiative is meant to provide an improved buying experience and as an outlet for customers to have their concerns and grievances addressed quickly and efficiently.
Al Habtoor Motors' Dubai showrooms and workshops for Bentley, Bugatti, Mclaren, FUSO, Chery and JAC, in addition to Mitsubishi, will all have the Consumer Happiness Counters.
The Counters form part of the larger initiative of Al Habtoor Motors as well as Dubai Economy's strategic goal to improve customer care across the emirate.
Abdullatif Al Marzouqi, Senior Manager of Consumer Awareness at Dubai Economy as well as representatives from Al Habtoor Motors, including Mr. Anan Nimer after Sales Director, Mr. Ravin CV- Mitsubishi Sales General Manager and Ms. Sujata Dutta- Mitsubishi CRM General Manager attended the opening of the Consumer Happiness Counter at Mitsubishi showroom.
Ms. Sujata Dutta, General Manager – CRM at Al Habtoor Motors, said: "Al Habtoor Motors is happy to participate in this initiative with the Dubai Economy. Customer care is fundamental to our business and we are constantly trying to improve ourselves on this front. It was with this intention that we launched 'Miles of Smiles' initiative two years ago, which is based on the five pillars of valuing customer relationship, safety, investment, time and feedback. It is our company philosophy to ensure that we provide our customers with the best products and services that will guarantee a high level of satisfaction in their motoring experience.