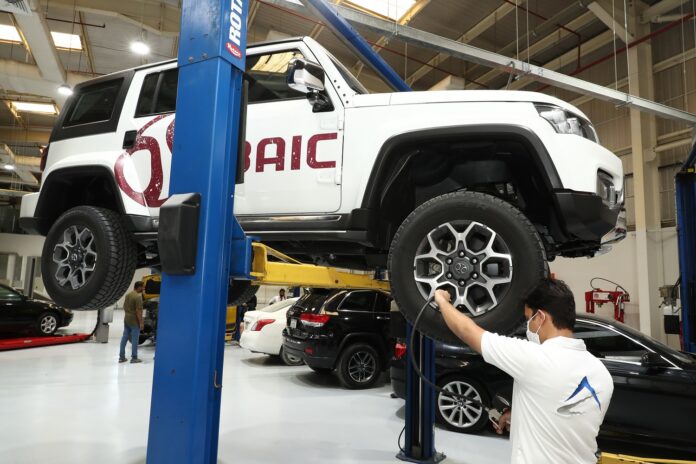 AutoCentral, the multi-brand service and repair centre under Al Masaood Group, has signed a service agreement with Beijing Automotive Industry Holding (BAIC), one of China's largest automakers by volume. Under the terms of their partnership, AutoCentral will handle all general and mechanical repairs of BAIC's passenger vehicles in the UAE with a provision for auto body insurance coverage.  Following this agreement, owners of BAIC-branded vehicles now have a trusted service agency to carry our quality auto repairs.
This new cooperation encompasses a range of services, including quick lube, periodic maintenance, tyre change and servicing, and battery replacement. AutoCentral's team of experienced and qualified technicians will also extend brake and suspension repairs, engine repairs, electrical repair service, A/C maintenance and repair, troubleshooting and diagnostics, body and paint repairs, SMART repair, and value-added services.
Mirsad Nezirevic, General Manager – Service, AutoCentral, said: "Our new ties with BAIC are the latest positive result that has come out of our continuing endeavours to build new partnerships and alliances. It serves as an opportunity for us to showcase the reliability of our solutions and the skills of our team to the renowned automotive manufacturer BAIC. We will ensure that we continuously enhance our value proposition to meet our goal of becoming one of the most reliable automotive service providers in Abu Dhabi and the UAE."
The service centre offers a premium experience integrated with other various facilities. Employing experienced, qualified technicians as well as well-trained experts in periodic mechanical services and body and paint repairs, AutoCentral is committed to providing high-quality services at competitive rates according to the best dealership standards.
This collaboration is the newest passenger-car venture of the Beijing-based state-owned enterprise and holding company with a foreign firm in the UAE. Al Shaali Moto Trading is the partner distributor of BAIC units in the Gulf state.