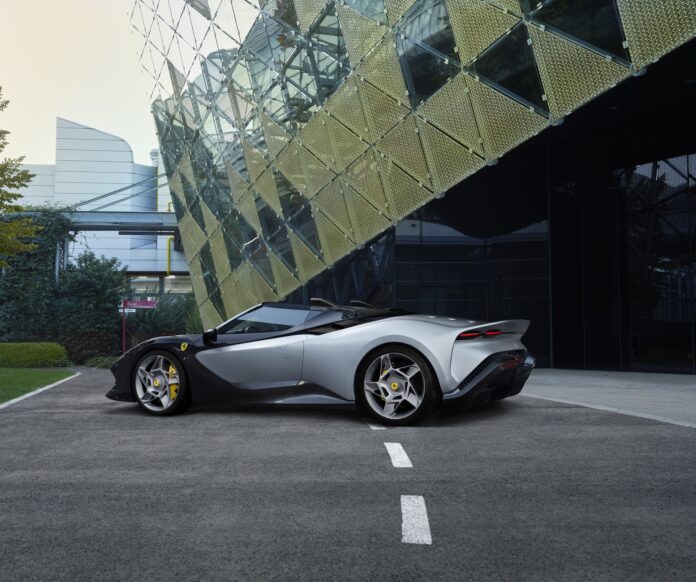 Ferrari unveiled the latest addition to its One-Off series, the Ferrari SP-8. Part of the marque's Special Projects programme and designed by the Flavio Manzoni-headed Ferrari Styling Centre, it is a mid-rear-engined V8 based on the F8 Spider from which it inherits its layout, chassis and engine. The SP-8 one-off joins the hallowed ranks of the most exclusive segment in the Ferrari range, unique cars crafted around individual clients' specifications, with the result that they embody the very pinnacle of Prancing Horse customisation.
The car's name celebrates its 3.9-litre V8 twin-turbo engine, one of the most critically-acclaimed power units in history and the winner of the prestigious Engine of the Year (IEOTY) award on four consecutive occasions.  As the client that commissioned the SP-8 hails from Taiwan, the number 8 is also significant as it considered extremely lucky in Chinese culture, traditionally auguring success, good fortune and personal achievement.
The SP59's most unique feature is the fact that it has no roof, making it a thoroughbred two-seater roadster in every respect, underscoring its sporty character and the instantly exhilarating visual and en plein air driving experience it delivers.  This solution demanded extensive refining of its aerodynamics through a combination of CFD simulations, wind tunnel testing and track testing to guarantee a standard of acoustic comfort and wind feeling comparable to the car that inspired it.
The car's main styling theme centres around the way in which its volumes crossover and fuse into one another: the unpainted carbon-fibre front wraps around to the tail, creating a two-tone effect that creates a powerful contrast in terms of both colour and materials. The elimination of the retractable hard top allowed the designers to radically restyle the entire tail section, giving it a full volume with a taut belt line. The car's volume is divided into two parts which are connected by a functional central area in matte black that includes the side air intakes with separate ducts for the intercoolers and engine. The upper section of this band incorporates a vent for the engine compartment with longitudinal elements that reference the lateral strakes typical of Ferraris of the past.