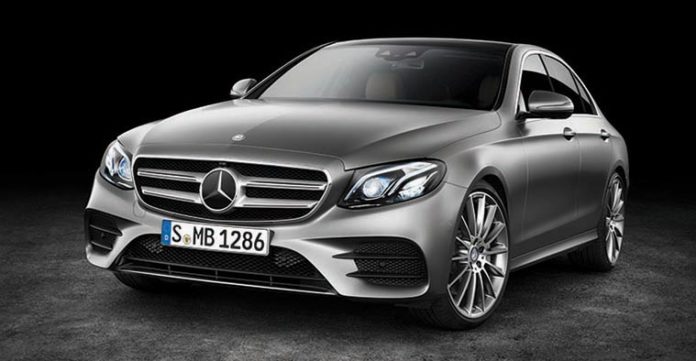 An innovative new luxury sedan
Historically, Mercedes-Benz has always reserved its jaw dropping technical innovations for its flagship S-Class. Former Top Gear presenter, Jeremy Clarkson, once remarked that the S-Class previewed what technological features would be mainstream on other non-luxury cars within the next decade.
However, times they are a changing and Mercedes-Benz is taking a big step into the future with the fifth-generation E-Class sedan. Not only does it deliver baby S-Class styling inside and out, but it also marks the world premiere of numerous technical innovations that enhance comfort, provide a new level of safe driving, and also enable a new dimension in driver assistance.
Mercedes-Benz claimed that the whole development process took over 4 years and 1,200 prototype vehicles. Cumulatively, the company's test drivers put these prototypes through a combined 12,000,000+ kilometres in some of the world's toughest environments, including the world's hottest deserts to temperatures well below freezing near the arctic circle.
There were over 1,200 engineers on the E-Class project, and the prototypes conducted over 10,000 autonomous braking tests and 5,000 automated lane change manoeuvres as part of its semi-autonomous driving feature tests.
All-new exterior design
The new E-Class looks sophisticated, confidently stylish and sporty. Compared with its predecessor, its wheelbase length has grown by 65 millimetres, its overall length by 43 millimetres.
Its design displays hallmark Mercedes-Benz sedan proportions, similar to those of the S-Class and also the C-Class. The elongated hood, coupled with a coupe-esque roof flows into a sensual, broad-shouldered tail end. While the design is very attractive, it does make it a bit difficult to distinguish between C, E, and S-Class, certainly more so than before.
As with most German cars, the E-Class is characterized by short overhangs, a long wheelbase, large wheels and taut, well-defined flanks displaying a fresh, stylish and dynamic interpretation of the feature line.
Mercedes-Benz says that their new design philosophy is called "Sensual Purity", and the E-Class is the latest example of this direction.
As before, there are two choices of front ends, each with a distinctive character. Choose the classic Mercedes-Benz radiator grille with the star on the hood for a traditional Mercedes look. Or, what I personally prefer is the sportier radiator grille with a large Mercedes-Benz star as its centrepiece. The latter compliments the muscular front end better, but ultimately beauty is in the eye of the beholder.

All-new interior innovations
Like its big brother S-Class, the new E-Class is optionally available with two LD instrument cluster displays, each featuring a resolution of 1920 x 720 pixels and at 12.3 inches in size. These wide aspect ratio screens are not only highly customizable, but they are also delightfully futuristic looking. Say goodbye to traditional analogue gauges as virtual instruments are displayed on these screens right within the driver's field of vision.
The steering wheel also features touch-sensitive control buttons, evidently for the first time in an automobile. Mercedes engineers have designed them to function similar to the horizontal and vertical swiping movements just like a smartphone interface. In fact, the entire infotainment system can be controlled from the steering wheel. This new control interface is intended to minimize driver distraction since his/her hands never have to leave the steering wheel.
Further infotainment system controls are provided by a touchpad with controller, located in the centre console, which includes handwriting recognition among its features, and the LINGUATRONIC voice control system.
Interior lighting in the E-Class, including enhanced ambient lighting, comprises exclusive durable, energy-saving LED technology. With 64 colours, it offers a host of possibilities for personalization, and adds touches of light to the trims, central display, front stowage facility, handle recesses, door pockets, front and rear footwells, overhead console, and tweeters.
An all-new infotainment generation makes its debut in the E-Class equipped with COMAND Online. Its highlights, alongside the available double display, include an optional wireless, inductive charging system works with all mobile devices that either support the Qi standard or can be upgraded to this standard. The charging pad, built into the storage facility at the front of the centre console, is compatible with mobile phones with a screen diagonal of up to 15.2 cm (6 inches).

All-new transmission
All E-Class models will come equipped with the new 9G-TRONIC nine-speed automatic transmission.
This transmission enables fast gear changes and allows low engine revs while cruising, to the benefit of both efficiency and noise levels.
Is it the world's most intelligent luxury sedan?
Mercedes-Benz's new assistance and safety systems take safety, comfort and driver assistance to a new level.
While there are far too many acronyms and systems to list out in this review, the most revolutionary system is perhaps the optionally available "Intelligent Drive Package