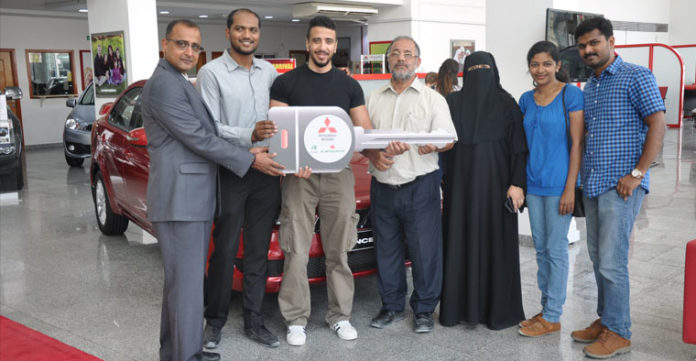 Al Habtoor Motors, Mitsubishi's official dealer in the UAE, announced the names of the ten winners of its Ramadan Promotion who won Lancer EX cars. They include Sultan Murshed Esmaeel Alastad, Ramy Mohamed Tawadros Badros, Tapas K. Roychowdhory, Rana Caye Garces, Mohamed Reda Saad Zaghlool, Raymond Scholly Michelle, Mahmoud Amir Elsaid Elbana, Sharaf Mohamed Shafik, Afroze Ahmed and Amal Joseph Athirakulangara.
An elated Sharaf Mohamed Shafik commented, "Al Habtoor Motors has offered me the best value during the holy month. I was out shopping for my favourite Pajero and now I have a Lancer EX which my wife likes a lot. We now have two vehicles in the family for the price of one."
Apart from the great value, Al Habtoor Motors Ramadan promotion offered Mitsubishi customers greater savings on the prices of the entire fleet of Mitsubishi passenger cars. The "Pick your deal" promotion has garnered such an immense interest amongst customers that it has been extended due to the popular demand.
Mitsubishi passenger cars continue to be offered with added convenience like 4 months/120 days deferred payment and other benefits which include Zero Deposit, Free Insurance, Free 5 Years/100,000 Km Warranty, Free Service up to 50,000 km and Free Llumar Tinting & ScotchgardTM Upholstery Protection.
"Ramadan is always a special time and this year Al Habtoor Motors has made it a very rewarding one. Winning a Lancer EX car has made my decision to go for the Montero Sport a very special one.", added another proud winner Amal Joseph.