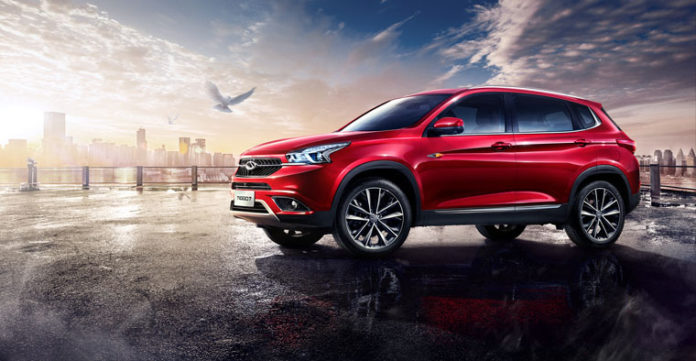 THE FEATURE-PACKED FASHIONABLE SUV IS CHERY'S NEW FLAGSHIP THAT FLAUNTS A DYNAMIC APPEARANCE, SUPERB CONTROL AND OUTSTANDING QUALITY.
Building on the success of the highly popular Chery Tiggo 5, the trend setting SUV which has been received well in the UAE, Al Habtoor Motors-Chery UAE brings in the next generation stylish Tiggo 7, packed with never-before features.
The all-new Tiggo 7 sets a new benchmark in the Chery SUV line-up with a clear departure from the conservative lines of previous models. The Tiggo 7 is also the first Chery to have the new family face with a typical wavy grille and boomerang headlights.
Aimed at the young and fashionable, Tiggo 7 sports a futuristic and forward-looking design. Its sporty H.D.S hydrodynamic body is inspired by hydropower with water streamed body lines that capture the momentum to move forward.
The double arched wavy front face adds an elegant touch, while its Xenon headlamp shaped as the legendary Trident of Poseidon blends fashionable looks with the tough SUV character. The Xenon headlamps emit lights four times higher in intensity with one-third less energy consumption when compared to conventional halogen lamps. The striking angular tiger-claw taillights feature high charging speed and long service life.
Moving to the inside, the new SUV features a rich dual colour interior trim with a stylish wing-shaped centre console dashboard which conveys a sense of power. The 9-inch True-color HD Capacitive Touch Screen includes Multi-media Features, A/C Settings, and Vehicle Settings that offers the driver easy, simple and user-friendly interactive experience. There's also a 4.8-inch Color LCD Dashboard which offers a user-friendly interface, with interactive dual-screen display between the audio screen and the dashboard.
For added convenience, the all-new Tiggo 7 sports Keyless Entry as well as a One-button Start System. The vehicle can be locked and unlocked simply by pressing the button on the handle outside the driver's door. The large-sized 0.92 ㎡ Panoramic Sunroof with electric sunblind, may be fully opened or tipped up to keep fresh air circulated naturally, creates a comfortable ambiance inside to enjoy the fantastic landscape outside.
When it comes to power, the Tiggo 7 comes to life with a choice of an all-new highly-efficient 1.5L turbocharged engine or a 2.0-DVVT Naturally Aspirated Engine which delivers superior power and fuel economy. Mated to a GETRAG 6-Speed Transverse Dry Dual Clutch Transmission for direct power output, higher transmission efficiency, and quicker shifting response, the transmission promises excellent fuel-efficiency and durability.
Built on an independent multi-link rear suspension and sub frame structure, it significantly enhances the stability when changing tracks and turning at high speeds, as well as it effectively prevents vibration and noise to offer greater driving pleasure and riding comfort.
When it comes to smart safety features, the 360° Full-time Panoramic Camera System gives the driver the choice to easily switch between the panorama view and the independent views from four cameras. This in turn allows real-time control of the surroundings, minimizing the blind zones while driving and parking. Furthermore, for a clear view behind, the Tiggo 7 is armed with a high-definition Visualized Reverse Imaging and All-dimensional Eight-probe Radar.
Designed in accordance with the highest crash safety rating of C-NCAP five-star standard, the Tiggo 7 provides five-star safety protection for occupants. What's more, BOSCH ESP 9.1 comes as a standard in all variants to ensure the best stability and accurate steering performance, while integrating features like ABS, EBD and TCS for guaranteed safety. All-round protection for driver and passengers is enabled by 6 Airbags and an Integral Cage Body Comprising Benteler – ultra-high-strength hot-formed steel which is used in 6 key areas and enhances bending rigidity up to 21000Nm/°.
The Hill-start Hold Control (HHC), Tire Pressure Monitoring System (TPMS) and 100-0km/h Braking Distance of 39.70m all work hand in hand to offer a safer and confident drive for all.
The wide leather seats, dual-zone automatic air conditioning, cabin noise control measures and class-leading rear compartment space all help in delivering VIP-level riding experience.
"Innovation has been the hallmark of the success of Chery worldwide. The designs are influenced by Chery's profound understanding of consumer preferences, cultural backgrounds and market trends. This level of in-depth understanding and innovative thinking will definitely give the all-new Tiggo 7 a decisive edge. Going by the success of Tiggo 5, we are sure to recreate the magic at a larger scale.