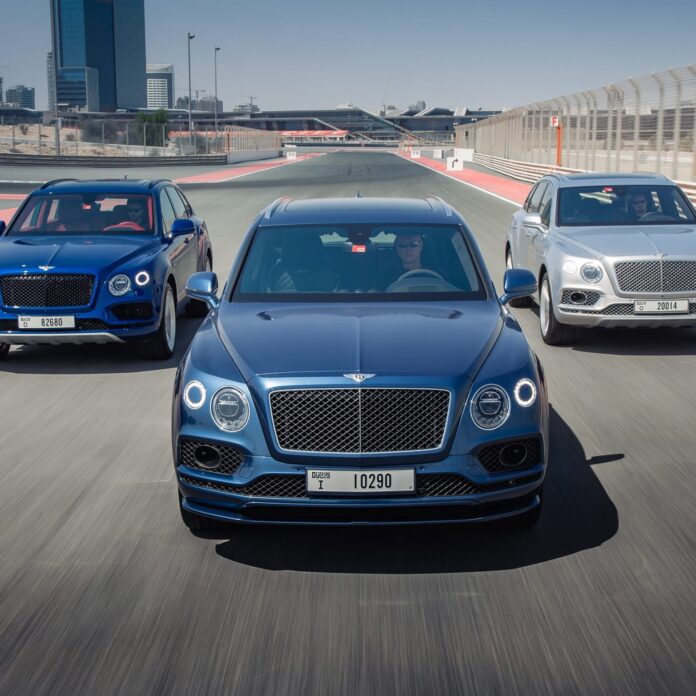 Bentley Motors reveals the success of the world's most luxurious and powerful SUV as sales in the Middle East exceed 2,000 units since its arrival in the region in 2016.
Now available in three variants – Bentayga W12, Bentayga V8 and Bentayga Speed – Bentley's luxurious sector-defining Bentayga range offers a truly unforgettable Bentley driving experience and showcases innovative technology and features.
Designed, engineered and handcrafted in Crewe, the Bentayga's styling is pure Bentley. Sculptural with an elegant, timeless execution, it perfectly balances athleticism with confidence. From the four round LED headlamps and large matrix grille, to the distinctive power line and muscular haunches, the unmistakable Bentley DNA is obvious throughout.
Its chassis system allows the Bentayga to take luxury to new places, with dedicated off-road modes for snow, sand, grass and trails. A pioneering 48V active anti-roll control system virtually eliminates body roll on the road, meaning the Bentayga is as suited to a dynamic drive along a mountain pass as it is to any off-road environment.
Bentayga W12
A twin-turbocharged 6.0-litre W12 engine is at the heart of the original Bentayga – the first variant to be launched in 2016. The mighty 12-cylinder unit combines efficiency and refinement with ultra-luxurious levels of power and torque. With 600 bhp 447kW) and 900 Nm (663 lb. ft) delivering a 0-100km/h time of 4.1 seconds and a top speed of 301 km/h.
Bentayga V8
Sitting in the centre of the Bentayga range, the V8 model fuses exquisite luxury with power, usability and extensive sporting ability. Powered by a new-generation 4.0-litre, 32-valve, V8 petrol engine featuring dual twin-scroll turbochargers located inside the 'V' of the engine, the Bentayga V8 combines immense power with impressive fuel efficiency. The V8 unit develops 542 bhp and 568 lb.ft. (770 Nm) of torque, resulting in a top speed of 290 km/h and 100 km/h in 4.5 seconds.
Its inimitable V8 burble, stylish twin-quad exhaust pipes and optional carbon-ceramic brakes, reflects the luxury SUV's sporting character.
Bentayga Speed
The world's fastest production SUV, the new Bentayga Speed features an enhanced 626 bhp version of the renowned 6.0-litre W12 engine boosting maximum power from 608 PS in the existing 6.0-litre W12 twin-turbocharged model to 635 PS (626 bhp), delivering a top speed of 306 km/h and 0–100 km/h in 3.9 seconds.
The Bentayga Speed's ceramic brakes are the largest and most powerful ever fitted to a Bentley, with a maximum braking toque of 6,000 Nm and engineered to withstand temperatures up to 1,000 °C. They also save more than 20 kg over iron brakes.
The Bentayga Speed is the most powerful and performance-oriented Bentayga to date. Its name builds on a long tradition of 'Speed' models born with the Continental GT in 2007.
To match the elevated levels of performance, the Bentayga Speed sports a striking exterior look. Dark-tint headlights radiator and bumper grilles, as well as body-coloured side skirts and a striking tailgate spoiler confirm the SUV's performance credentials.