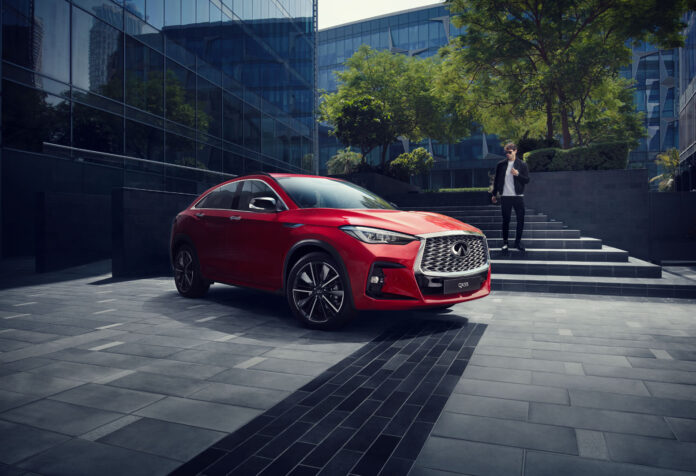 Stepping into an INFINITI showroom, eyes naturally gravitate toward the QX55. This has always been the case. Visitors immediately notice this attention-grabbing vehicle. Its positioning is unmistakable, conveying a clear message – the QX55 deserves to be at the forefront of consideration.
When the INFINITI QX55 is spotted ferrying its esteemed passengers, each embodying luxury, innovation, and empowerment, they have served as partners in a journey of recognition. The QX55, featuring a striking exterior design highlighted by bold lines and distinctive curves, has been present to assert a statement of confidence and style that resonated and still resonates with the qualities of all those important people it has transported. The intricate digital rear end lights, resembling the keys of a piano, have infused an artistic flair, amplifying the vehicle's visual allure. The iconic crossover coupe shape has commanded attention, captured gazes, and left an indelible impression.
Stepping out of the QX55, one could tell they were departing comfort and refinement. Every corner of the meticulously crafted interior has showcased attention to detail that provided a delightful experience for all occupants. The plush leatherette seats envelop passengers in exceptional ease. With advanced climate control, the car has always ensured that the journey was as enchanting and restful as the destination.
Its inclusive sophistication demonstrates INFINITI's vision of democratizing richness, making the allure of high-end drives accessible to those who deserve it. This vehicle is a symbol of value, a partner in the pursuit of success, and appreciated class.
With features like ample storage capacity, it offers practicality and versatility to support various lifestyles, so nobody has had to leave anything behind. Its unwavering commitment to safety, with advanced technologies and comprehensive driver assistance systems, has always ensured peace of mind for everyone travelling.
Discover the essence of empowerment and gracefulness by exploring the INFINITI QX55 at INFINITI of Arabian Automobiles centers in Dubai, Sharjah, and the Northern Emirates.