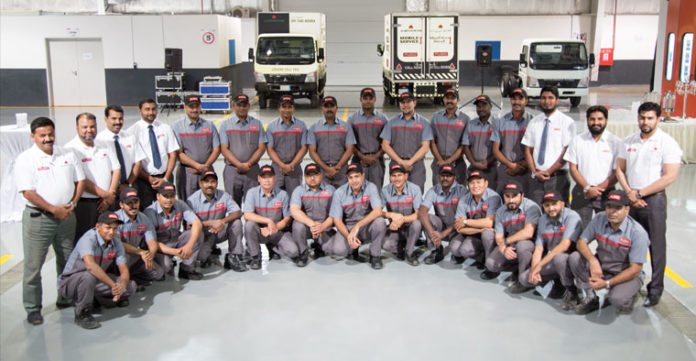 Al Habtoor continued its KSA expansion plan with the opening of Riyadh's biggest truck servicing operation, by inviting 200 of KSA's largest Truck Operators to view the world class facility and meet the AL Habtoor Saudi Arabia management team.
The open event was held on Wednesday, 22nd Safar 1438 AH, corresponding 23rd November, 2016. The 9,000m2 facility is dedicated to the rapidly growing FUSO truck brand, a division of Daimler Trucks. It has 20 fully air conditioned truck working bays plus a Parts department holding 7,500 lines and 220,000 individual parts
The investment is dedicated to Al Habtoor Motors promise of a one stop solution for all truck operators, including body fabrication, routine maintenance and truck accident repair giving the lowest possible vehicle operating costs. The customers were delighted to see the world class service facilities such as a full size truck spray booth, a Black Hawk chassis straightener for accident repair of even the biggest heavy duty truck and a specialized truck brake tester to ensure that the brake performance of every vehicle serviced meets manufacturer's standards.
Al Habtoor also has a fleet of dedicated mobile service vans that will service and repair FUSO trucks at the customer's premises.
Al Habtoor Motors Saudi Arabia Country Head, Mr. Simon Monahan said, "We are delighted to welcome our customers to the largest Truck Servicing facility in Riyadh. FUSO is the only brand that offers a full range of Light Duty, Medium Duty and Heavy Duty Trucks together with Light Buses. This investment is dedicated to reducing your operating costs through quick and efficient service and repair to the highest possible standards.