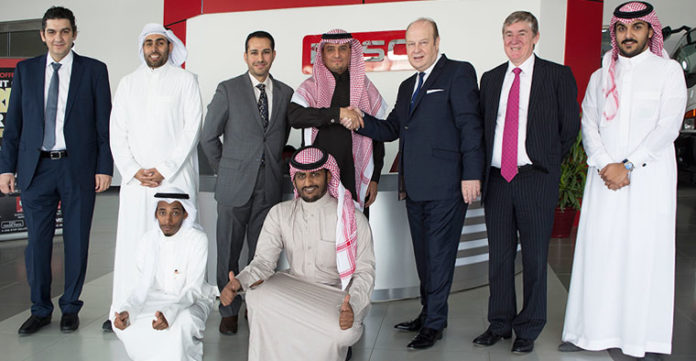 Saudi Arabia's oldest truck reseller, Atheryon International Corporation, has formally signed an agreement with Al Habtoor Motors to sell new FUSO trucks.  
Atheryon's current truck facility in Riyadh is spread over 7,000 sq. meters at Exit 17, in Sulai, Al Ra'ad Street. They have built their excellent reputation by selling used trucks and machinery 7 days a week, with special auctions 3 days a week for buyers to purchase trucks at bargain prices. Now they have added brand new FUSO trucks from light duty to heavy duty, to expand their customer offering.   
Atheryon International Corporation has also committed to building a brand new FUSO operation in Qassim city to sell trucks and maintain them with service facilities and Genuine Parts sales.  The agreement was signed by Ahmed Abbad, owner of Atheryon, and Simon Monahan, Country Head for KSA for Al Habtoor.
Al Habtoor Motors is fully operational for trucks sales, service or genuine parts at both Riyadh facilities in Exit 17 or Exit 30. With Atheryon International Corporation's added support, this will dramatically increase FUSO sales in Saudi Arabia.  Al Habtoor has also trained the sales team at Atheryon to have better understanding of the FUSO products and to be able to provide the best truck solutions for customer needs.    
Al Habtoor Motors Saudi Arabia Country Head, Mr. Simon Monahan said, "Al Habtoor Motors has received a warm welcome from truck resellers in Saudi Arabia. We are delighted to have Atheryon International as our official reseller. This partnership helps us serve truck operators better by making sure that service facilities are close-by, to reduce fleet costs, so we are excited to welcome Atheryon as our partner in Riyadh and Qassim to deliver the best possible FUSO customer care.