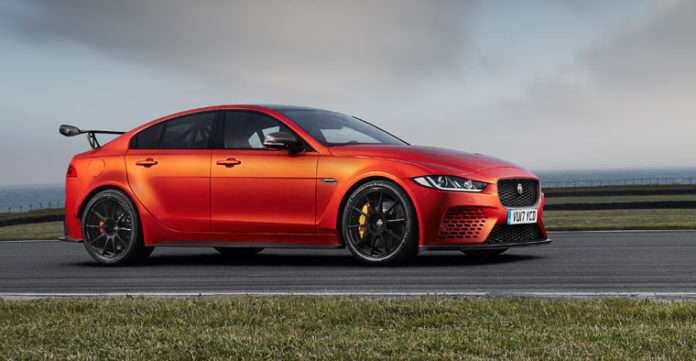 • New Jaguar XE SV Project 8 sits at the pinnacle of the world's performance sedans, with a thrilling mix of explosive power, dynamic agility and all-wheel drive traction
• Significant SVO enhancements made to award-winning XE include lightweight aluminium and carbon fibre exterior panels to meet extreme performance targets
• 322kmph and 0-100 km/h in 3.7sec – supercar performance from Jaguar's most compact four-door sedan
• Project 8 is the most powerful Jaguar road car ever – and first road-legal Jaguar with a 600PS 5.0-litre supercharged V8
• Just 300 examples of the ultimate expression of Jaguar performance are available worldwide – exclusively left-hand drive
• Project 8 features manually adjustable ride height, aerodynamics and Intelligent Driveline Dynamics settings for circuit use. Optional two-seat Track Pack version saves 12.2kg
• First application of Jaguar's ultimate new Carbon Ceramic Braking system, and an industry-first use of F1-style silicon nitride ceramic wheel bearings on a road car
• Project 8 will be the first car completely hand-assembled by SVO's expert craftsmen at the new £20m SVO Technical Centre in Warwickshire, UK
• Prices for Project 8 reflect the high-value engineering content and hand-built assembly process of this specialist car.
• Project 8 will be available to order worldwide in four-seat specification. Track Pack version featuring two race specification seats and Harness Retention Hoop is also available on order. Project 8 with Track Pack will make its world dynamic debut on 30 June at Goodwood Festival of Speed, where the four-seat version will also be presented on the Jaguar Land Rover stand
Jaguar Land Rover Special Vehicle Operations (SVO) has revealed the most powerful, agile and extreme performance Jaguar road car ever – the 322kmph, 600PS XE SV Project 8 sedan.
The second Collector's Edition by SVO, following the successful F-TYPE Project 7 of 2014, Project 8 is a hand-built four-door sedan with supercar performance – designed to thrill driving enthusiasts, with an extraordinary combination of explosive power, dynamic agility and all-wheel-drive traction. To ensure exclusivity, no more than 300 examples will be created, each assembled at SVO's Technical Centre in Coventry.

John Edwards, Jaguar Land Rover Special Operations Managing Director, said: "SVO's raison d'être is to produce halo vehicles that push the boundaries in terms of luxury, performance and all-terrain capability. Project 8 is a great example of what happens when enthusiastic designers, engineers and manufacturing specialists are given the opportunity to create an extreme performance sports car without compromise.