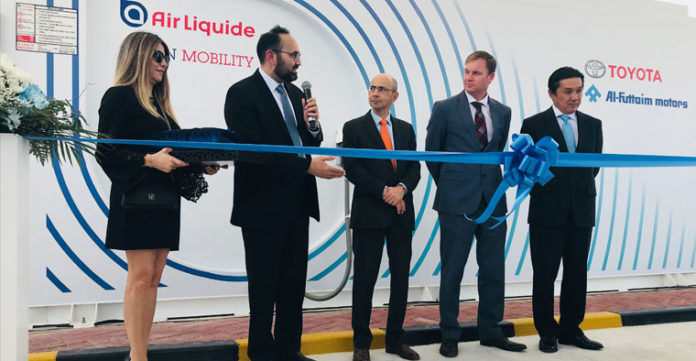 • Endorses both entities' commitment to the UAE Vision 2021
• Supports a larger scale deployment of Toyota Fuel Cell Electric Vehicles

Al-Futtaim Motors, leader in sustainable mobility and exclusive distributor of Toyota in the UAE, in collaboration with Air Liquide, one of the most established suppliers of hydrogen stations in the world, have jointly inaugurated the UAE's first hydrogen station in Dubai Festival City, to be used by Fuel Cell Electric Vehicles (FCEVs).
The new facility comes following the announcement made at the Abu Dhabi Sustainability Week earlier this year where Toyota's Chairman, Takeshi Uchiyamada, announced the launch of a collaborative study about the feasibility of establishing a hydrogen-based society in the UAE, aiming at drastically lowering CO2 emissions, in line with the UAE Vision 2021.
The new Al Badia-based hydrogen station will enable larger-scale deployment of Fuel Cell Electric Vehicles as part of a pilot program which started in May 2017, aiming at testing the zero-emission FCEV technology on UAE roads.
Using cutting-edge technologies, such as Toyota's proven electric propulsion system also available in hybrid cars, FCEVs such as the Toyota Mirai, run on hydrogen rather than petrol, emitting only water from the tail pipe. In the onboard Fuel Cell Stack, hydrogen combines with oxygen in the air to generate electricity that powers the vehicle's electric motor.
Bertrand Thiebaut, Senior Managing Director, Al-Futtaim Motors and Senior Vice President Al-Futtaim Automotive Group said "The pilot which started with only three Toyota Mirai vehicles, will soon expand to involve a larger fleet that will be tested by key stakeholders in the UAE