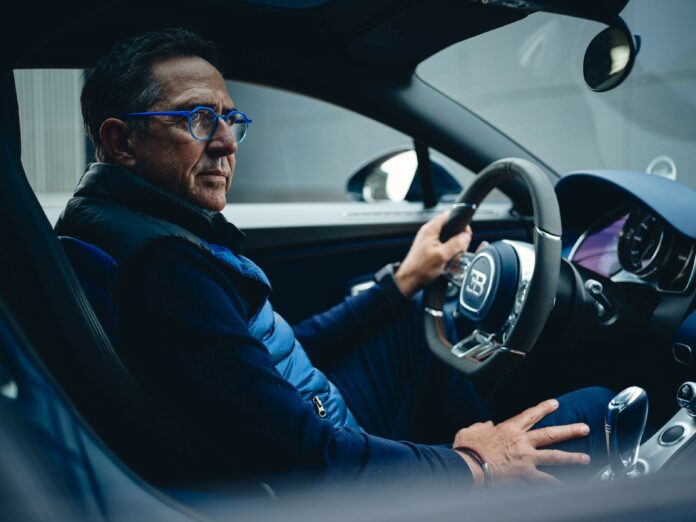 With a racing career that peaked with Formula One and the 24 Hours of Le Mans, Pierre-Henri Raphanel knows exactly what it takes to control raw power, outstanding performance and high speeds under pressure from behind the wheel. At Bugatti, he has been using that rich experience and deep expertise since 2005, when he became the first – and only – Pilote Officiel of the brand.
"I always knew I was destined for a life on the track and behind the wheel," says Pierre-Henri. "Having started in karting, I knew from a very young age that I wanted to pursue a career interwoven with motorsport."
DESTINED TO RACE
Pierre-Henri is unwavering in his intense passion for racing. His first foray came at the tender age of 13 years, with his first go-karting competition. With a focused mind and a natural talent, Pierre-Henri quickly established himself in the karting scene enjoying great success – he won the French Championship and ranked in the Top 6 in the World Championship – often outdriving competitors that were older and with much more on-track experience.
Supported unconditionally by his parents, the early years in karting were after all a family adventure for the Raphanels, with the entire family – originally from the South of France – happily sacrificing weekends to travel the length and breadth of the country to compete in some of the most famous races.
Having dominated karting up to the age of 21, Pierre-Henri was then ready for a new challenge.
Formula Renault beckoned, followed by competitive seasons in Formula 3000 and Formula 3. During the latter, he won the French Championship, including victory at that season's F3 Monaco Grand Prix. The raw speed of Pierre-Henri springboarded him into the rarefied world of Formula One – the most elite motorsport in the world. In 1989, Pierre-Henri achieved the dream of every single racing driver in the world, racing in Formula One around the Monte Carlo circuit for revered the Monaco Grand Prix.
After achieving the pinnacle of motorsports, Pierre-Henri sought out a different challenge, taking his skills into the world of endurance car racing, including the 24 Hours of Le Mans and the Japan Championship GT series. During 14 races at the 24 Hours of Le Mans – the world's greatest endurance race – he secured three podiums with his co-drivers and one class win.
Pierre-Henri would stop racing competitively in the early 2000s, ready to the take the next step in his career, applying his skills, knowledge and passion to a new project that was set to revolutionize the automotive industry. "The point at which I stopped racing felt like a natural end to that important era – I had no sense of frustration nor bitterness. But, as that chapter closed, another exciting one opened," he adds.