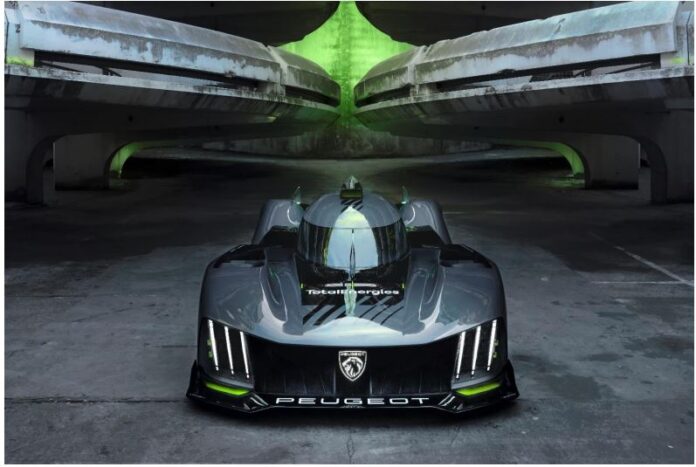 Much more than a racing car, the PEUGEOT 9×8 is already an iconic object, an aesthetic and technical revolution, an ultimate design adventure. Matthias Hossann, PEUGEOT Design Director, has placed it in brutalist architecture before it tackles Endurance race tracks in 2022. This was an opportunity for the fashion and supercar photographer Agnieszka Doroszewicz, to play with the light and the concrete's contrasts. Her photographs are a metaphor for the 24 Hours of Le Mans, a mythical race in which the light changes as the hours go by.
To create the new 9X8 Hybrid Hypercar, the PEUGEOT Design team went hard out. They imbued it with all the contemporary aesthetic codes specific to the marque: a feline stance, fluid lines enhanced by signs of sportiveness, sleek and structured flanks and, of course, the characteristic three-clawed luminous signature of the Lion. Slim and sleek, the PEUGEOT 9X8 arouses emotion and embodies speed.
Designing a racing car is an ultimate dream of every automobile designer. The probability of that dream ever coming true was up until now close to zero: rather than the marque's style and identity, performance was the prime consideration, so much so that racing cars had become morphologically almost indistinguishable from one another. The designers' work was limited to small details and the livery.
For the PEUGEOT 9X8 Hybrid Hypercar, engineers and designers worked very closely together to achieve a convergence between style and technology to create a competition vehicle. "The level of discussion was absolutely unprecedented", says Matthias Hossann, PEUGEOT Style Director. "We were in contact with the PEUGEOT Sport team, and really did work hand-in-hand with them."
"To identify the theme for our future racing car, we first launched a competition between the designers. We received a lot of submissions as this project aroused massive enthusiasm, with the prospect of one day seeing our creation compete against the world's most prestigious brands on the most mythical of tracks."
"Once the theme had been selected with the help of the PEUGEOT Sport engineers, we set to work together. Guided by performance, for which no compromise was ever made, and under innovative regulations, the engineers left as much room as possible to allow the designers freedom of creativity to develop the Hypercar's design. The PEUGEOT 9X8 was born along with the DNA of the new Hypercar regulations (LMH) wanted by the Automobile Club de l'Ouest, the organiser of the 24 Hours of Le Mans and the Fédération internationale de l'Automobile, presenting the fundamental traits of a PEUGEOT. This car will stand as a milestone in the history of Endurance racing.