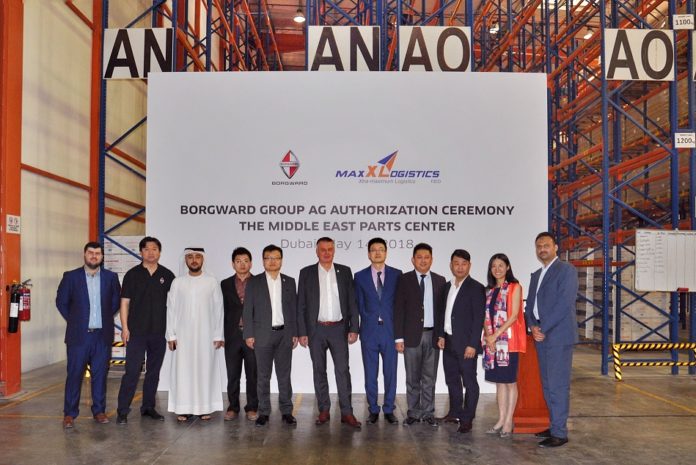 Opening of central warehouse to address regional demand for spare parts & services
Subsequent to the official launch of Borgward BX7 and BX5 in the Middle East, Germany-based automaker Borgward launched its showroom in Dubai in partnership with its exclusive UAE distributor Union Motors. To further enhance its regional presence and market share, Borgward also opened the Middle East Parts Center, a central warehouse, at the Jebel Ali Free Zone (JAFZA), addressing the growing demand for its spare parts and services in the GCC market. The facility will have more than 16,000 square meters of storage area to address the regional demand and considerably cut down delivery time.
The launch of two premier models in the UAE is in line with Borgward's strategic expansion plans in key individual markets with vibrant business growth opportunities. The launch of the Middle East Parts Center in JAFZA gives the advantage of superior geographical position and convenient transportation. The facility is supported by partnerships with MaxX Logistics, a subsidiary of Almajdouie Group and Sinotrans Co., LTD., headquartered in JAFZA and will provide storage and transportation, road transport, project logistics and door to door logistics services, and other value-added services. Another highlight of the Center is the integration of WMS inventory management system to carry out day-to-day warehousing functions and scanning code of the goods through the handheld terminal, and realizes the system query inventory, electronic ordering and outbound delivery.
The new Borgward warehouse offers local, experienced, effective agent operation, and competitive products for local dealers' operation. Effectively shorten the supply cycle of spare parts and improve the satisfaction rate of customers.
Borgward's new Middle East Parts Center in Dubai has been strategically planned to effectively cater to the regional demand. In the future, the distribution area of the Center will expand to cover Middle East & Africa countries and the range of products available will be expanded to include 30,000 spare parts spread over 25,000 square meters over the next few years.

The opening of the new facility is expected to further cut down the shipping time to 2-5 days from placing the order to delivery of the product.
Tom Anliker, Senior Vice President of Borgward group AG, said; "Borgward's entry to the GCC was prompted by robust customer demand for compact and mid-size SUVs in the region. The opening of the central warehouse in Dubai's JAFZA reflects our commitment to delivering excellent service to our customers and underscores our continuing efforts to become a trusted service partner. The move complements Borgward's entry into the GCC market and will support our expansion plans in the region.