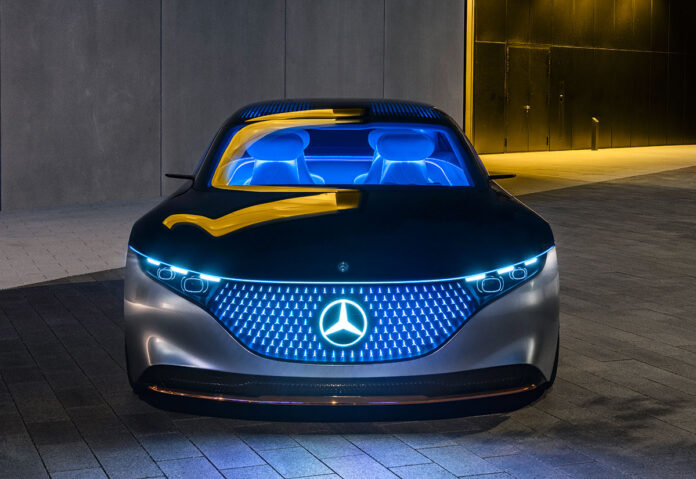 The Vision EQS, a milestone on the way to the future of Mercedes-Benz. At the International Motor Show in Frankfurt, Mercedes-Benz will show the challenges of the future: sustainability is becoming a central component of the brand philosophy, and a major aspect of our corporate strategy. The show car already meets these aspirations today, and provides an outlook on future large, electric luxury saloons. At the same time it illustrates a vision of purpose-built electro-design. With the Vision EQS, Mercedes-Benz is making a clear statement for the continued future of high-quality vehicles and self-determined driving. Supreme craftsmanship, emotive design, luxurious materials and individual driving pleasure will continue to be desirable in the future. Because now and for the future, luxury above all stands for personal freedom as well.
Seamless, digital and electric – the design
With its innovative, stretched "one bow" proportion, the VISION EQS takes the Progressive Luxury design philosophy of the EQ models by Mercedes-Benz into a new dimension. The flowing yet powerful sculptured effect of the exterior design gives the show car its majestic appearance – luxurious generosity and aerodynamic elegance in ideal harmony.
The prominent, continuous "lightbelt" structures the exterior in a new way. The resulting colour division at shoulder level creates the impression of a "black panel" glass landscape floating on the silver vehicle body – a seamlessly connected vehicle surface from the striking EQ front grille to the rear.
In an innovative way, the VISION EQS appears both sensuously elegant and dramatically charged with this design.