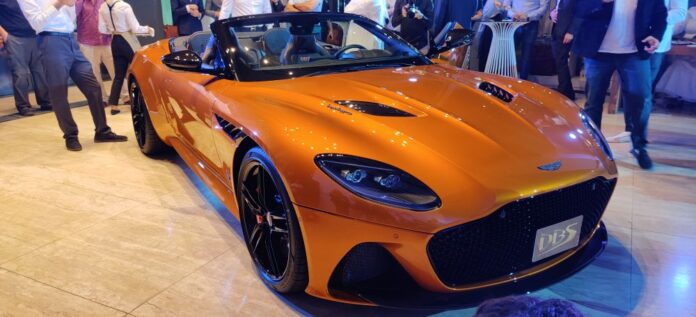 Aston Martin unveiled the DBS Superleggera Volante for the first time in the Middle East during an event at the Downtown Dubai Showroom on Wednesday 30th October. The fastest convertible model in the company's history, the new DBS Superleggera Volante delivers all the evocative talent of the British marque's critically-acclaimed Super GT flagship – the magnificent DBS Superleggera – and blends it with class-leading convertible technology.
The second Aston Martin to carry the Volante name following the introduction of the company's Second Century Plan, DBS Superleggera Volante was designed in-house under the guidance of Executive Vice President & Chief Creative Officer Marek Reichman. With the aim to create the most beautiful flagship Volante on the market, Aston Martin's primary mission has also been to retain the coupe's powerful dynamics, aggressive poise and astonishing performance.
Powered by Aston Martin's own 5.2-litre twin-turbo V12, producing 715BHP 900Nm of torque, and with a top speed of 211mph, the DBS Superleggera Volante boasts ferocious acceleration. While covering 0-62mph in just 3.6 seconds and 0-100mph in 6.7 seconds.
Volante is a name that can only be attributed to convertible cars bearing the iconic Aston Martin wings badge, and thus the defining feature of any Volante is its roof. An advanced fabric system allows for an innovative and beautiful formed flowing roof line. Incorporating eight layers of insulation materials and acoustically enhancing materials, the canopy greatly improves the comfort of the interior cabin for all occupants when up, but allows a true orchestra of sound to pour into the cabin when retracted.