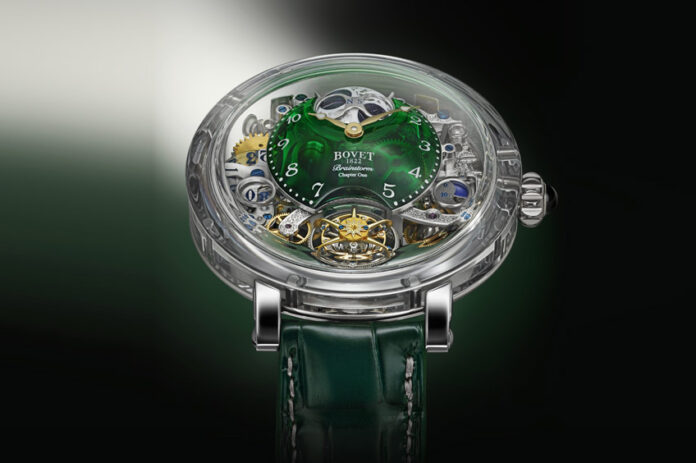 First revealed at the SIHH 2019, the Récital 26 Brainstorm® Chapter One features a Sapphire "writing slope" shaped case and has now been introduced by the Maison with its hemispherical dial in transparent green quartz. Limited to 60 movements only, the Récital 26 Brainstorm® Chapter One combines a host of innovations, and showcases the unprecedented possibilities for interpreting time offered by the unique "writing slope" case.
Chosen for its crystalline transparency, sapphire is also the second hardest material known after diamond. The lightness of sapphire is also unsurpassed, and in fact weighs less than titanium.
Although the complications fully justify the use of sapphire for this case, the latter must be pivoted to observe the movement from the side. Its atypical construction reveals a stepped architecture whose succession of inclined planes carries all the movement's mobiles and components. The middle and glass ultimately form a single element.
The movement chosen to occupy this three-dimensional panoramic showcase is regulated by the patented double face flying tourbillon. The movement has evolved since it was first introduced and today features a variable inertia balance for even greater chronometry through the use of a traditional hairspring. Mastery of hairspring production sets BOVET apart, a rarified science mastered by very few watchmakers. This new caliber draws its energy from a single barrel that guarantees 10 days' power reserve despite numerous animated complications. The doubly patented spherical differential winding system halves the number of turns of the crown required to wind the timepiece completely