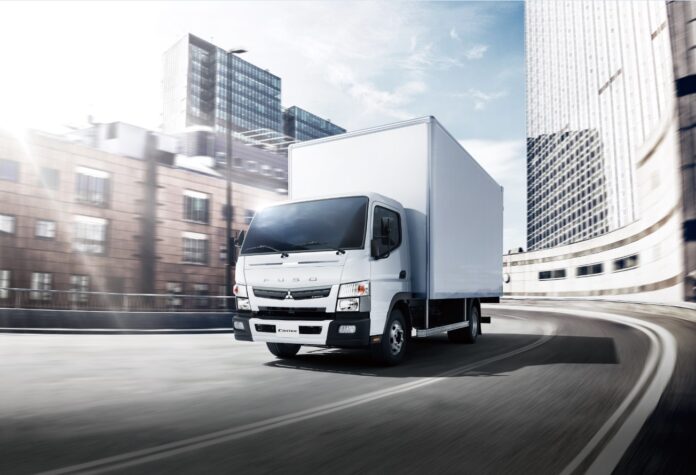 Since the introduction of Canter in 1963, more than 3.5 million Canters have been produced making it the best-selling truck model at Daimler Trucks. Canter is highly popular in the region and in the light-duty truck segment; it has remained prominent in the market for more than 57 years and across 8 different model generations.
THE WIDE CANTER RANGE
The new FUSO Canter Euro 5 offers a wide range of variants. There are two different cab widths available: the streamlined standard cabin, which is just 1,695 mm wide and suitable for use in restricted spaces; and the comfortable wide cabin, measuring 1,995 mm in width. In addition, the wide cabin is also available with a crew cabin option – fitting up to seven persons.
With two different axle configurations in 4×2 and 4×4 variants with a wide range of permissible gross vehicle weight spectrum from 5.7 tons to 8.55 tons, the new Fuso Canter range covers all the key segments for light-duty trucks.
Currently the range is available with 5-speed manual transmission. A 6-speed automated manual transmission (AMT) will soon be launched for the new Canter range in the 6.5 tons weight variant.
FUSO CANTER – CLEANER AND MORE ECONOMICAL
The robust and durable design, Euro 5 emission norm, low fuel consumption, higher payload are just a few of the many features contributing to the new Canter's almost legendary overall economy. The new generation is cleaner and more fuel-efficient than previous models and provides the highest eco-friendliness. It offers maximum efficiency with reduced fuel consumption compared to previous generations.
Several measures have been implemented into the newly designed common-rail 4P10 engine with 2,998ccm 2,998cc which is available in two engine outputs with 96 kW (130 ps) and 110 kW (150 ps). Both engines offer a flat torque curve with 300Nm and 370Nm at 1,300rpm & 1,320rpm respectively. In all models, the Euro 5 emission norm is achieved through an EGR (Exhaust Gas Recirculation) system and DPF (Diesel Particulate Filter) which is configured for the vehicle's lifetime and is maintenance-free, eliminating the need to be cleaned or replaced.
Using a higher torque engine with lower RPM ensures lesser strain on the engine and an overall longer engine life. With the newly available Euro 5 emission, less CO2 and NOx are emitted resulting in a reduced carbon footprint. The new Canter over-fulfils the local emission norm required in the UAE.
CANTER 4X4: EVEN MORE TRACTION WITH REDUCTION GEAR
The other special features of the new FUSO Canter Euro 5 range include the variant with manually selectable all-wheel drive with a permissible gross vehicle weight of up to 6.0 tons, a 1,995mm comfortable wide cabin and an engine output of 110 kW (150 ps). The all-wheel drive can be engaged whenever required; the Canter 4×4 includes the standard-fit engageable reduction gear. This reduces the maximum speed in the respective gears by a factor of 1.987 and also increases traction by this amount. The crew cabin option will also be available on the 4×4 model.
INCREASED SAFETY FEATURES FOR DRIVER AND CO-DRIVER
The new FUSO Canter Euro 5 range offers a number of new safety systems which includes ABS (Antilock Braking System), EBD (Electronic Brake Force Distribution), BOS (Brake Override System), driver and co-driver airbags, tubeless tyres and more. The standard braking system is equipped with disc brakes on both axles, which guarantees superior braking performance & heat dissipation under continuous heavy braking.
The Canter with the highest GVW & 4×4 configurations are equipped with drum brakes at the rear axle on both axles. The standard Exhaust Brake System (EBS) valve is fitted on the turbo charger outlet. This system uses the vehicle exhaust gas to create a backpressure to slow down the engine, enabling vehicle stability. This results in reduced stress on service brakes when driving downhill and therefore a reduction in maintenance costs of the vehicle.
HIGH QUALITY AFTER SALES & CUSTOMER SUPPORT
Al Habtoor Motors has always focused on building customer confidence by providing FUSO customers not only the best choice of vehicles through its 8 showrooms network, but also high quality after sales support through its 11 Parts Outlets and 7 Service Centers spread across the UAE.  For the better convenience of the customers, there are two Mobile Service Units as well.
Add to the excellent after sales support, Al Habtoor Motors has also taken care to provide Drivers & Technicians of Fleet customers extensive Customer Training at its Technical Training Center in DIC. Al Habtoor Motors also has a Central Parts Distribution Warehouse in DIC along with 2 PDI & Logistics Facilities to ensure uninterrupted supply of vehicles as well as spare parts.
About Al Habtoor Motors:
Al Habtoor Motors is the exclusive distributor of Mitsubishi, FUSO, Chery, JAC, Bentley, Bugatti and McLaren in the UAE, and a part of the UAE based diversified multi-billion dirham business conglomerate Al Habtoor Group. Al Habtoor Group has varied interests and substantial investments ranging from Engineering, Real Estate, Hotels, Leasing, Education, Publication and Automobiles.