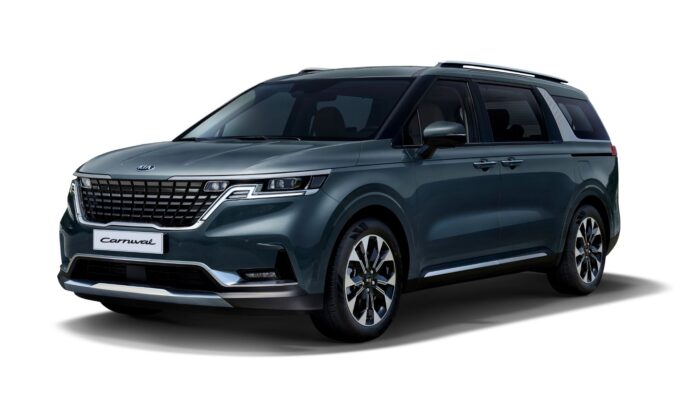 The fourth-generation Kia Carnival arrives in markets within the Middle East and Africa (MEA). Customers can learn more about the brand's next generation flagship SUV, which has captured the attention of customers of the MEA region since its unveiling in 2020. The new Carnival is designed to appeal to progressive young families through its leading combination of innovation, space, flexibility, and style.
Based on Kia's new mid-size platform, the Carnival is more refined, roomy, and capable than ever, offering generous space and increased efficiency than its predecessors — and current rivals in the minivan segment. Offering owners three or four-row seating configurations, with room for seven, eight, or 11 occupants in total.
The new Kia Carnival illustrates the evolution of Kia's design philosophy, offering customers visually stunning, dominating vehicles on the road, with customer driven, futuristic interior surfaces and finishing. The Carnival's SUV inspired design makes for a stylish and robust presence on the road and within the Multi-Purpose Vehicle (MPV) segment.
"The Carnival is as practical as it is stunning. Offering an abundance of space and cargo, the Carnival comes fitted with a modern suite of hi-tech features that cater to the interests and demands of seasoned drivers and passengers of all ages. The Carnival's cabin provides an immersive luxury experience that prioritises comfort and convenience first." said Yaser Shabsogh, Chief Operating Officer, Regional HQs, Middle East & Africa. "Our design team has tackled the Carnival through all angles to produce a high-quality product which is unlike any other vehicle in the segment. The anticipation comes to an end as Kia customers from the region can now contact their distributor to learn more about the all-encompassing Carnival." He added.
The Carnival's state-of-the-art suite of high-tech features is designed to make life and travel as easy and convenient as possible.  A high-tech twin digital display links Kia's 12.3-inch digital driver instrument cluster and touchscreen infotainment and navigation system, with Kia Live services providing live traffic information, weather forecasts, and more helpful travel features for all passengers.
The new Carnival adopts Kia's latest 'Smartstream' powertrain technologies to enhance efficiency and performance. Depending on local specifications, the Carnival is available with a choice of up to three new engines, all offering swift, easily-accessible performance. All engines are paired as standard with eight-speed automatic transmissions, offering smooth and swift progress to match the car's unruffled dynamic character.
The new Carnival boasts a range of passive and active safety and driver assistance systems, including Kia's advanced driver assistance systems (ADAS). The ADAS helps to reduce the inherent hazards and stresses of driving for a relaxing and safe journey.
The Carnival is fitted with up to seven airbags and also includes Kia's innovative Multi-Collision Brake system. The system automatically applies the vehicle's brakes when the airbags deploy after an initial collision, further protecting occupants from additional impacts. Also included are Kia's Vehicle Stability Management (VSM) and Electronic Stability Control, helping drivers maintain control under braking and cornering.
The bodyshell is comprised of different grades of Advanced High-Strength Steel, maximising rigidity while keeping body weight low to reduce road vibrations and enhance occupant safety in the event of a collision.
The Carnival features a new fully independent suspension system with a multi-skeletal cross-member and new geometry. With this comes the fresh column-mounted motor-driven power steering set-up, resulting in a slightly more direct response to steering inputs, with a 5.6% quicker steering ratio than a hydraulic power steering system.
The new Carnival maintains the same driving character as its predecessors, prioritising comfort above all. The new model delivers an easy-going and assured ride, allowing for stable handling in all conditions. With a comprehensive array of sound-reducing and insulating measures, the new NVH features ensure the new model is one of the quietest and most refined on the road.