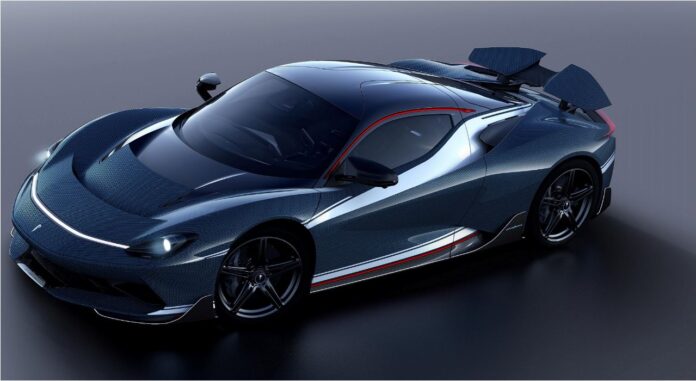 Every Battista will be a truly unique interpretation of the luxurious hyper GT thanks to Automobili Pininfarina's all-encompassing Bespoke personalisation programme – and the design of the first vehicle to emerge from the service has been revealed.
Automobili Pininfarina has an unrivalled legacy of creating exclusive vehicles and its Bespoke programme will ensure every example is one-of-a-kind, with each client's personality woven into the very fabric of the car. The first Bespoke commission is inspired by New York City and features a sophisticated red, white and blue colour theme, led by Exposed Signature Carbon body work with world-first Iconica Blu thread, delivering a dramatic visual from every angle.
Sara Campagnolo, Head of Colour and Materials Design, Automobili Pininfarina, said: "The Pininfarina name has a storied heritage of individual cars, and the Battista continues this legacy as every vehicle will be truly bespoke by design. Our clients have the unique opportunity to join the Automobili Pininfarina family, immersing themselves in the design process with our talented craftspeople to ensure their vehicle authentically reflects their personality and tastes, created with a truly personal touch. Clients have the opportunity to drive forward the development of sustainable luxury, whilst creating a unique collector's piece."
Every element of the vehicle receives bespoke treatment, with clients offered a 360-degree consulting service resulting in a truly unique creation. Automobili Pininfarina's Bespoke programme makes exquisite detailing a reality, with the New York-inspired commission debuting Exposed Signature Carbon with Iconica Blu thread – the first application of its kind in the automotive industry.
The commission also includes Performance Stripes and Pinstripe finished in distinctive Bianco Sestriere metallic – meticulously applied by hand due to the complex shapes of the body panels – with a red Exterior Jewellery Pack elegantly completing the exterior design with a Furiosa Carbon Accent Pack finished in Black Exposed Signature Carbon. Mixing advanced composite materials with traditional coachbuilding techniques, the hand-painted finish for this one-off model will take hundreds of hours of expert attention.