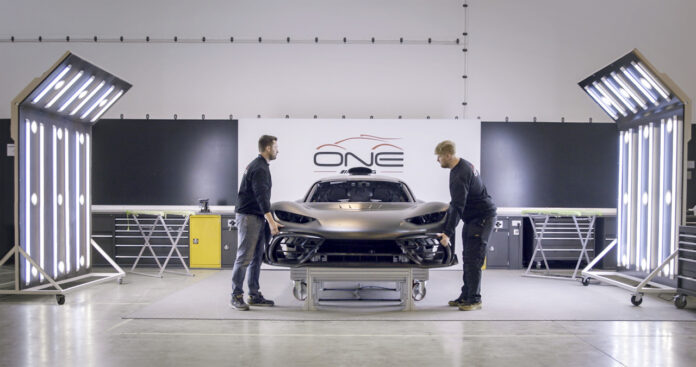 Only 275 units will be built in total, and job#1 of the exclusive production of the Mercedes AMG ONE hypercar (fuel consumption weighted, combined: 8.7 l/100 km; combined weighted CO2 emissions: 198 g/km; combined weighted electrical consumption: 32 kWh/100 km)  has now begun. The first customer vehicles will be delivered in the second half of 2022. The Formula 1 based hybrid powertrain with a 1.6-litre V6 turbo engine and four electric motors is being built by the motorsport experts at Mercedes AMG High Performance Powertrains in Brixworth (England), who are also responsible for developing and producing the Power Units for the Mercedes AMG Petronas F1 racing cars. The production of the complete vehicle will be implemented in Coventry, UK. For this purpose, AMG worked with manufacturing partner Multimatic to set up a dedicated small series production facility.
"The Mercedes AMG ONE is the most ambitious project we have ever undertaken – from development to production. It marks another high point in Mercedes AMG's successful strategic development towards an electrified Future of Driving Performance. The production of the exclusive small series is a truly unique challenge. For the first time, the hypercar brings current Formula 1 hybrid technology almost one-to-one from the race track to the road and combines overwhelming performance with exemplary efficiency. This world first is now becoming a reality thanks to the great teamwork between Mercedes AMG in Affalterbach, the Formula 1 experts at Mercedes AMG High Performance Powertrains in Brixworth and our production partner Multimatic. We as a whole team are very proud to have now started production of the first customer vehicles," says Philipp Schiemer, Chairman of the Board of Management of Mercedes AMG GmbH.
The exclusive car production is completed by hand at a total of 16 assembly and testing stations. Many work steps are reminiscent of the production of high-quality luxury watches: some sub-systems are first pre-assembled and tested for function, then disassembled again and only then finally installed in the vehicle. This applies, for example, to the carbon-fibre monocoque with a bonded-in roof as well as all detachable body parts, which are also made of the light and stable, but also costly material. The entire outer skin is the first to be completely assembled. Now all the fits are meticulously checked and, if necessary, adjusted for size. This is the only way to create a perfectly even joint pattern. In the process, the specialists have to take into account the final lacquering, which adds its own material thickness. Given that the wall thickness of the carbon is only 1.2 millimetres in certain locations, this is a highly difficult and specialised task. Once everything fits together perfectly, parts including doors and bonnets are dismantled again and then hand-painted as a car set for each individual vehicle – this ensures the perfect colour match of the entire vehicle.