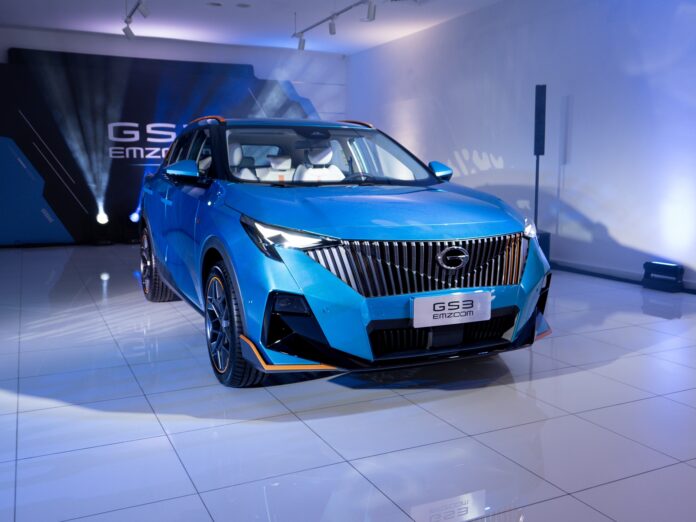 Gargash Motors, a leading distributor of premium and luxury cars, and the authorized distributor of GAC Motor in the United Arab Emirates, has proudly unveiled the exquisite all new GS3 EMZOOM R Style, announcing its availability in an event that took place in their GAC Motor Showroom in Deira.
The GS3 EMZOOM R Style is an automotive design masterpiece with its futuristic looks, state of the art features, and spacious interior. This unveiling stands as a testament to GAC Motor's commitment to delivering innovative and trendsetting vehicles that consistently exceed expectations. By relentlessly pushing the boundaries of automotive excellence, Gargash Group is actively shaping the future of mobility and crafting unparalleled experiences for UAE's passionate car enthusiasts.
Commenting on the launch, Shehab Gargash, Managing Director & Group CEO of Gargash Group, said: "With our partners, we are devoted to setting new trends, pioneering innovation, and delivering uncompromising quality and services for our customers. With the GS3 EMZOOM R Style's introduction, we reaffirm our brand values by seamlessly merging unique design, intelligent technology, and outstanding performance."
Morgan Sunderland, General Manager at Gargash Motors, added, "Our mission is to introduce vehicles that not only inspire curiosity, but also seamlessly combine style, comfort, and advanced features. Our commitment to customer satisfaction propels our ongoing quest for excellence, and we are thrilled to showcase the GS3 EMZOOM R Style as a prime embodiment of our brand's values in action."
Also commenting on the occasion, Zeng Hebin, General Manager of GAC Motor International said, "We are thrilled to join forces once again with our esteemed partner, the Gargash Group, a recognized leader in the industry, to introduce the EMZOOM R Style to the vibrant UAE market. This vehicle embodies the perfect blend of comfort and sophistication, catering to a wide range of transportation needs. Our dedication to this product segment has been unwavering, and with the immense potential that the UAE market offers, we are poised to not only meet but surpass our goals by delivering an unparalleled experience that will surpass the highest expectations of our valued customers."
Zhang Yongming, General Manager of GAC Middle East, added, "Emzoom R Style, our latest addition to the lineup, ushers in a bold and exciting chapter for GAC Motor, signifying an era marked by heightened confidence in our brand's value, an assertive global strategy, and the prowess of our self-developed technology. This remarkable creation stands as a crowning achievement alongside our immensely popular GS8, Empow, and Emkoo models. We hold a strong conviction that through its innovative design and unwavering performance, Emzoom R Style will ignite a new wave of appreciation among discerning UAE consumers, underscoring GAC's commitment and unwavering dedication to the artistry of Chinese craftsmanship at the high end."
GS3 EMZOOM R Style comes with a Sci-fi inspired exterior, and a Smart watch feature, which acts as the third key with the ability to open and close the car, and start the engine remotely, all of which can be done with a touch of the screen. In addition to that, GAC has made some exclusive performance additions to the R Style, with faster gear shifts, improved stopping power, and a launch start mode. This enables the 174 horsepower 1.5 Turbo engine, to deliver a 0-100kmh in 7.5 seconds, whilst having excellent fuel efficiency. It arrives with a host of other remarkable features, such as the hidden door handles, extremely spacious interior and trunk, a cockpit with dual digital control panels, car play and a wireless charging pad, for your phone.
Other technology features of Emzoom R Style include a 360 – degree camera, adaptive cruise control, and lane keeping assist to add to safety and comfort.
During the event, Gargash Motors also showcased the captivating and innovative EMKOO, a next-generation technical SUV celebrated for its pioneering style, intelligent technology, and remarkably efficient powertrain. Since its debut, EMKOO has resonated deeply with UAE residents, captivating the market with its distinctive allure