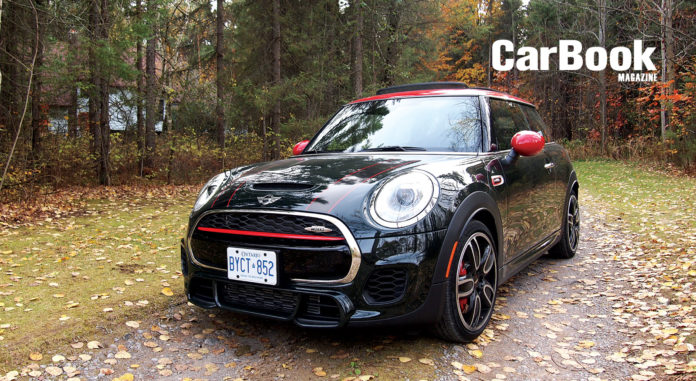 [soliloquy id="1145″]
MINI on steroids
The 2016 MINI John Cooper Works (JCW) may have, well, mini in it's name, but don't be mistaken — there is not a whole lot that is small about this car.
Recently re-invented again when the current generation standard MINI Cooper three-door, upon which this vehicle is based, was launched, the 2016 is the quickest production version the company has ever built. It's also arguably the best looking one made thus far.
JCW is the manufacturer's in-house tuning arm, responsible for making extra sporty versions of their pedestrian lineup of cars. Sidebar: John Cooper, after which JCW is named, was a carmaker, racing team owner and racecar driver who helped create the original MINI hot hatch over 50 years ago. Long before go-fast parts were available straight from the manufacturer, Cooper was modifying his own creations putting in quicker engines, better brakes and more efficient transmissions.
So in short, the special models it turns out have historically been quite aggressive in both the aesthetic and performance sense, and it's good to see nothing has changed.
Souped up
While still keeping the compact form that has made MINI Coopers so popular, select tweaks have been made, like the addition of gaping air intakes in the front bumper aiding in cooling the high-output engine and brakes. An upswept rear spoiler helps provide much-needed downforce around corners, and the centre exit dual tip muffler expels spent exhaust gasses.
In addition to the go-fast parts, my press vehicle was sprayed in another JCW exclusive: the new-for-this-year Rebel Green metallic paint colour. Unlike other greens of the past, Rebel has a different appearance depending on the lighting condition. For example the green really sparkles under the sun, but at dusk it can resemble a dark grey or black.
Now for a few notes about the interior — the front seats are among some of the most supportive I have sat in, with quilted centre sections finished in "Dinamica fabric,