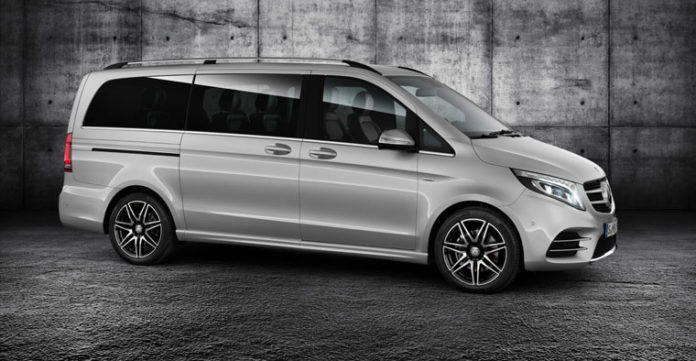 The Mercedes among MPVs
With the V-Class, Mercedes-Benz is redefining the MPV. As the largest member of the passenger car family from Stuttgart, it sets new benchmarks in its segment with its design and a host of innovations. With room for up to eight people, the vehicle combines exemplary functionality with the high-class appeal, efficient driving pleasure and a five star safety rating that distinguish automobiles bearing the three-pointed star. This makes the Mercedes among MPVs the perfect vehicle for those who appreciate great spaciousness, but do not want to sacrifice style and comfort.
The V-Class is offered in three variants: Standard, Avantgarde and Exclusive. A particularly luxurious variant of the MPV is the V-Class EXCLUSIVE. With an incomparably high level of exclusive equipment and appointments, it raises style, comfort and functionality of the V-Class to an even higher level and marks the pinnacle of the model series. The V-Class AVANTGARDE option includes the option of an Exterior Sports package and an Interior Design package, and a range of other extras.
For the first time in this segment, Mercedes-Benz is also offering the AMG Line equipment package, enabling the new MPV to be individualised to suit any taste and requirement. As a result, the model meets a wide variety of customer needs and is just as attractive for families as it is for people who need a variable and spacious interior for their leisure and sports activities. Even more than that, it is ideally suited to use as a luxurious VIP or hotel shuttle.
"The V-Class offers so much more than has ever been available in the market. Not only does it excel in terms of the functionality expected of an MPV,  but the levels of comfort,  high-class design, technological innovation and versatility in this model put the V-Class in a pioneering position for the segment," said Roland Schneider President and CEO of Daimler Commercial Vehicles MENA. "Whether for families or corporate use, this is a perfect vehicle for anyone who appreciates travelling in style – understandably it has been well received in this region.