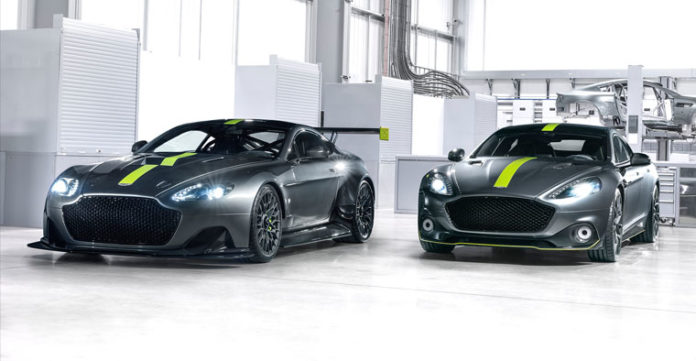 New AMR brand strengthens the connection between road and race cars
AMR derivatives planned for every core model in the Aston Martin range
AMR Pro models to have increased power, sharper dynamics and unique exterior and interior treatment
Rapide AMR and Vantage AMR Pro concepts confirmed for production
Aston Martin has chosen the 2017 Geneva Motor Show to launch AMR – an exciting new brand that brings a new dimension of race inspired dynamism and performance.
Reflecting Aston Martin's racing pedigree, AMR takes technology and inspiration from motorsport to amplify the sporting prowess present across the model range. With enhanced performance, sharper dynamics and more powerful design language, AMR takes Aston Martin's road cars to new and exciting extremes.
The AMR brand follows in the wheeltracks of successive iconic Aston Martin road cars which boasted top-level racing pedigree. In the mid-1930s the success of Aston Martin's Team Cars in the Ulster TT road race led the marque to build further examples of the lightweight two-seater for sale to the public. In 1951, Sir David Brown introduced uprated and highly desirable 'Vantage' specification models, and steered the marque to an historic outright win at Le Mans with the iconic DBR1 in 1959.
Since the formation of Aston Martin Racing (AMR) in 2004 Aston Martin has enjoyed success in the FIA World Endurance Championship (WEC), winning the 2016 FIA WEC GT Drivers Championship, while also securing three class victories at the 24 Hours of Le Mans over this period. Similarly, Aston Martin Racing's GT3 and GT4 racers have secured countless victories and championship titles around the world.
Two AMR concepts have been unveiled in Geneva: The Rapide AMR and Vantage AMR Pro. The Rapide represents the first tier of AMR, enhancing the four-door sports car with a comprehensive suite of power, chassis and styling upgrades, plus a spectacular new interior treatment. The Vantage AMR Pro – heavily influenced by Aston Martin Racing's WEC winning V8 Vantage GTE – is the pinnacle; an uncompromising demonstration of AMR's 'Track to Tarmac' philosophy whereby race technology is transferred to road cars.
While future development of the core AMR models will be part of Aston Martin's central vehicle engineering teams, development of all AMR Pro models will be led by Q by Aston Martin Advanced Operations. This highly-skilled department – managed by Aston Martin's VP and Chief Special Operations Officer, David King – already has extensive experience of creating extreme Aston Martins, with recent projects including the Vantage GT12, Vantage GT8 and Aston Martin Vulcan.
Underlining Aston Martin's commitment to its new high-performance brand, AMR's European development and brand centre will be based at Aston Martin's state-of-the-art Nürburgring Test Centre, which is situated within sight of the legendary Nürburgring Nordschleife race track.
Marek Reichman, Aston Martin EVP and Chief Creative Officer, says that the AMR brand was a logical next step after the 'sold-out' success of limited edition sporting versions like the Vantage GT8 and Vantage GT12: "Each time we have pushed the boundaries and done something extreme, the customers have loved the cars. AMR enables us to take Aston Martin into a new dimension. One where we can turn-up the sporting DNA present in all of our models and make a true statement. An AMR model will have an instantly recognisable design language. One that accentuates and amplifies, together with the latest GT race car technology for the road. They will be special and rare cars that are credible, thrilling to drive and hugely desirable to own.