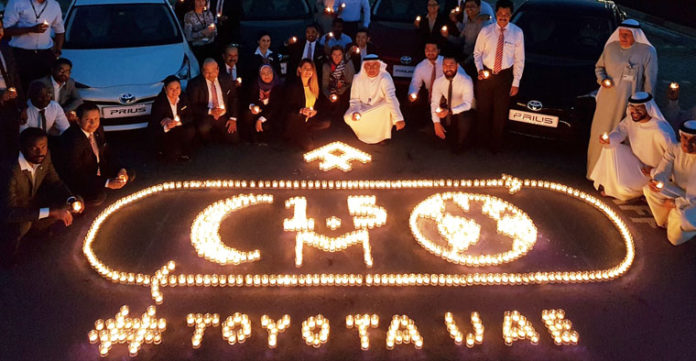 In an effort to cement its position as the leader in sustainable mobility in the UAE, Al-Futtaim Motors, exclusive distributor of Toyota, Lexus, Hino and Toyota Material Handling Equipment in the country, celebrated Earth Hour by reiterating that the fuel saved through the cumulative sales of Toyota hybrid cars around the world, could take us 1.5 million times around the earth and the moon.
Formed using tea light candles, the message was conveyed by Al-Futtaim Motors associates during the celebration of the global Earth Hour initiative on March 25, 2017, during which the company's showroom lights were switched off from 8.30 to 9.30 pm.
Toyota Motor Corporation has earlier announced that the cumulative global sales of its hybrid vehicles reached 10.05 million units, resulting in approximately 77 million fewer tons of CO2 emissions and saving approximately 29 million kiloliters of gasoline.
Yousuf Al Raeesi, Director – Government Affairs, Health, Safety, Security and Environment said "In line with the UAE vision 2021 that focuses among other priorities on improving air quality, Al-Futtaim Motors has been leading the sustainable transport journey for over 6 years now, with an ever increasing hybrid line-up across our brands.