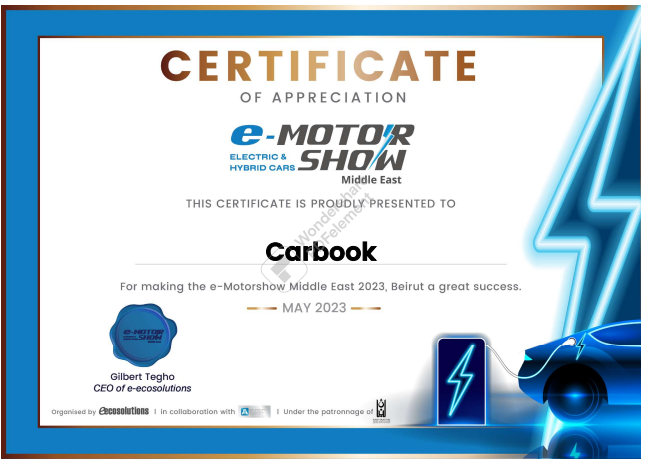 🏆 We are thrilled to announce that CarBook Magazine has been honored with a Certificate of Appreciation for its outstanding contribution at the highly successful e-MotorShow® Middle East 2023 in Beirut! 🎉🚗
This prestigious recognition is a testament to our great participation and unwavering dedication in this year's edition of The e-MotorShow® Middle East. We are incredibly proud to have made a significant impact on the event, leaving a lasting impression on exhibitors and visitors alike.
At CarBook Magazine, we strive for excellence and a profound understanding of the automotive industry. Our exceptional content, insightful coverage, and expert analysis have not only informed and educated enthusiasts but have also inspired a new generation of car aficionados.
Our active engagement during The e-MotorShow® Middle East has elevated the event to new heights, creating an immersive experience for attendees. With our captivating displays and insightful perspectives, we have enriched the automotive discourse, leaving a lasting impact on the industry.
We would like to express our heartfelt gratitude to The e-MotorShow® Middle East team for this incredible recognition. This Certificate of Appreciation fuels our passion and motivates us to continue fostering innovation and progression within the automotive community.
We invite all our readers and supporters to join us in celebrating this achievement. Stay tuned for more exciting updates and insightful content as we continue to shape the future of the automotive world together.
#carbookmagazine #eMotorShowMiddleEast #CertificateOfAppreciation #AutomotiveExcellence #IndustryRecognition #PassionForCars #InspiringEnthusiasts #DrivingInnovation #FutureOfAutomotive