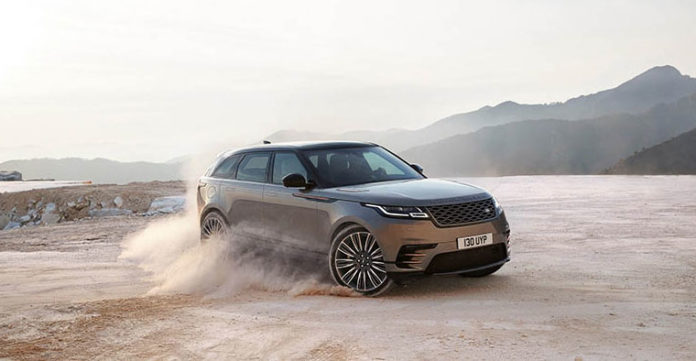 INTRODUCING RANGE ROVER VELAR
• A new addition to the Range Rover family, filling the white space between the Range Rover Evoque and the Range Rover Sport
• A mid-size luxury SUV that delivers new levels of refinement, elegance and technology
The luxury SUV was created in 1970 when Land Rover launched the original Range Rover. Almost half a century later that spirit of innovation continues with the introduction of the fourth member of the Range Rover family.
Elegant simplicity, a visually reductive approach and pioneering consumer technology are the hallmarks of the new Range Rover Velar.
Five elements define Range Rover Velar's absolute desirability:
• Driven by reduction: Stripping away complexity to reveal true quality
• Designed and engineered with an unwavering belief in 'reductionism'
• Luxurious, spacious interior is a calm sanctuary, combining elegant simplicity with premium materials and beautiful details such as hidden-until-lit controls
• The fourth Range Rover: The next revolution in SUV design, with precision in every detail
• Fills the 'white space' between Range Rover Evoque and Range Rover Sport
• Born from reductionism, Range Rover Velar articulates technology-enabled design to provide the next logical step in broadening the Range Rover portfolio
• A bloodline like no other: Respecting Range Rover's unrivalled heritage
• Almost fifty years of Range Rover pedigree provides the confidence to aim higher, go further and allow customers to make more of their world
• Royalty of the SUV world, Range Rover heritage began with the original Velar prototypes of 1969
• Establishing the trends of tomorrow: A new Range Rover statement of innovation
• Continuing Range Rover's history of innovation, Velar incorporates advanced technologies, compelling design and absolute attention to detail
• State-of-the-art Touch Pro Duo infotainment system, super-slim Matrix-Laser LED headlights, flush deployable door handles and Burnished Copper-coloured detailing embody the trends of tomorrow
• Refined for every occasion: Exceeding expectations with Land Rover's legendary capability on all terrains
• All the refinement customers expect together with Land Rover's unrivalled capability on every terrain around the world
• Exceptional on-road performance and agility combined with outstanding ride quality and composure

At-a-glance
• Compelling, stand-out design features, perfectly optimised proportions, powerful, taut surfaces and a stunning silhouette
• Design purity emphasised by super-slim Matrix Laser-LED headlights and flush deployable door handles
• Debut of the state-of-the-art Touch Pro Duo infotainment system, featuring two high-definition 10-inch touchscreens for unrivalled functionality and intuitive operation
• Light, stiff, aluminium-intensive body structure enhances performance, agility and efficiency
• The 2,874mm wheelbase and intelligently-designed interior deliver an impressive 673-litre luggage compartment and exceptional space for all occupants
• Air suspension as standard on six-cylinder models for peerless refinement; Adaptive Dynamics damping technology standard on all models for unrivalled comfort and control
• All-wheel drive with Intelligent Driveline Dynamics and active locking rear differential ensure world-class all-terrain capability and maximum driver engagement on-road
• Pioneering traction technologies including Terrain Response 2, All Terrain Progress Control, Low Traction Launch, Hill Descent Control and Gradient Release Control
• Towing capacity of up to 2,500kg complemented by the Advanced Tow Assist function – the driver reverses the vehicle with trailer attached using the Touch Pro Duo rotary controller, and with no need to counter-steer
• Six powertrains ranging from the clean, responsive 180PS 2.0-litre Ingenium diesel with CO2 emissions from only 142g/km, to the potent 380PS supercharged 3.0-litre V6 petrol engine
• Full suite of advanced safety systems including Autonomous Emergency Braking with pedestrian detection, Reverse Traffic Detection and Driver Condition Monitoring
The Range Rover Velar brings a new dimension of glamour, modernity and elegance to the Range Rover family. Designed to fill the white space between the Range Rover Evoque and Range Rover Sport, the Velar offers levels of luxury, refinement and all-terrain capability never before seen in the mid-size SUV segment. This is a new type of Range Rover for a new type of customer.
Created from a clean sheet using Jaguar Land Rover's Lightweight Aluminium Architecture, the Velar represents the next chapter of the Range Rover success story. Velar is defined by a visually reductive approach and meticulous attention to precision in every detail, which evolves Range Rover DNA and previews the next generation of Range Rover vehicles.
Velar's design is beautifully balanced, from its powerful proportions to its continuous waist line through to the taut tapered lines of the rear. The generous wheelbase contributes significantly to its elegance while helping to provide a spacious interior.
The large alloy wheels – in particular the range of 22-inch designs – optimise the vehicle's stunning silhouette, while further enhancing Velar's dramatic presence.
Advanced technology is pivotal to the contemporary design: the full-LED headlights are the most slender ever to appear on a production Land Rover vehicle. The flush deployable door handles emphasise Velar's reductive, sculptured form, and contribute to the low drag coefficient of only 0.32 – this is the most aerodynamically-efficient Land Rover ever produced.
Look inside Velar's interior and you will see elegant simplicity, sophistication and refinement. An unwavering belief in reductionism has been fully employed, with switches being kept to an absolute minimum to help create a calm sanctuary.
Design enabling technology has been engaged fully to create the new Touch Pro Duo infotainment system which is the centrepiece of Velar's interior. Touch Pro Duo features two 10-inch high-definition touchscreens integrated seamlessly behind secret-until-lit surfaces. These slim, intuitive displays work in harmony with the cabin architecture while adding an overall sense of modernity congruent with the vehicle's exterior design. All of this is equalled by the Velar's practicality: luggage compartment volume is an impressive 673-litres.
Unique in the segment, the Velar offers a sustainable, premium textile seat material as an alternative to leather. The Dapple Grey material was developed together with Kvadrat, Europe's leading manufacturer of high-quality design textiles, and is complemented with Suedecloth inserts in Ebony or Light Oyster.

The light, stiff, aluminium-intensive body, together with double-wishbone front- and Integral Link rear suspension provides the perfect basis for agile handling, superior ride comfort and outstanding refinement. It also delivers exceptional levels of crash protection, and the Velar has been developed to meet the most demanding crash test regulations worldwide.
Combined with a comprehensive restraints system that includes six airbags, and a suite of advanced driver assistance systems including Autonomous Emergency Braking with pedestrian detection, Adaptive Cruise Control with Queue Assist and an Adaptive Speed Limiter, the Velar integrates the latest safety technology.
The Velar features a sophisticated all-wheel drive system, four-corner air suspension, class-leading ground clearance of 251mm (213mm with coil springs), class-leading wading depth of 650mm (600mm with coil springs) and Land Rover's unmatched suite of traction technologies including Terrain Response 2 and All Terrain Progress Control. The Velar – like all Range Rovers – offers world-class all-terrain capability.
Exceptional performance and efficiency comes from the range of six petrol and diesel powertrains, all matched to smooth-shifting ZF eight-speed automatic transmissions and all-wheel drive with Intelligent Driveline Dynamics.
Clean, refined four-cylinder Ingenium diesels are offered in 180PS and 240PS variants, noted for their low 142g/km CO2 emissions and high 500Nm torque output respectively. These engines are joined by the new, highly-advanced four-cylinder Ingenium petrol engine which delivers 250PS and enables acceleration from 0-100km/h in just 6.7 seconds (0-60mph in 6.4 seconds). An even more powerful, 300PS version of this engine will join the Velar range later in the year.

The V6 diesel combines an extraordinary 700Nm of torque for effortless acceleration and off-road capability with CO2 emissions of only 167g/km. The 380PS supercharged V6 petrol engine combines exhilarating performance with a unique soundtrack and enables the Velar to reach 100km/h in only 5.7 seconds (0-60mph in 5.3 seconds) before reaching an electronically-limited top speed of 250km/h (155mph).
The Velar and Velar R-Dynamic core range comprises Standard, S, SE and HSE specifications. Customers can also specify Black and Luxury Exterior Packs for an even more distinguished appearance.
Of all Velar models, the most exclusive of all will be the First Edition, which will be available worldwide for one model year only. Even more luxurious than the HSE specification, this model is powered solely by the 3.0-litre V6 petrol and diesel engines and features a wealth of extra features as standard, including full extended leather interior trim to complement the perforated Windsor leather seats in Light Oyster or Ebony, 1,600W Meridian Signature Sound System, Matrix-Laser LED headlights and 22-inch split-spoke wheels with diamond-turned finish.
Exterior paint colours for the First Edition are Corris Grey, Silicon Silver, and Flux Silver – a unique satin finish exclusive to the First Edition for the first model year only – which will be meticulously hand-sprayed at Jaguar Land Rover Special Vehicle Operations' Oxford Road Technical Centre in the UK.
Designed and engineered at Jaguar Land Rover's development centres in the UK, Velar will be produced at the company's Solihull production facility, UK. It goes on sale from Summer 2017 in the UK and Europe and will be sold in over 100 markets worldwide.