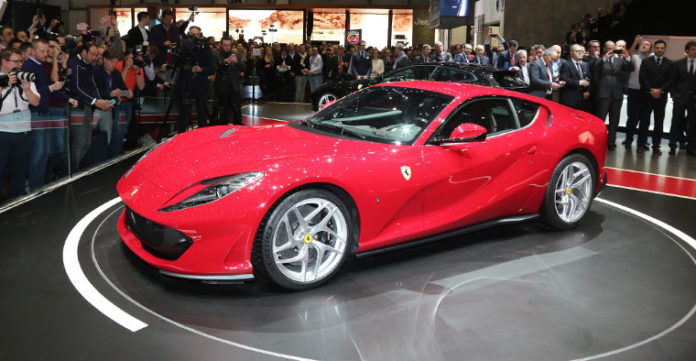 show a new example of the 70th Anniversary Tailor Made liveries
Ferrari kicks off its 70th anniversary with the world premiere of its most powerful production car yet, the 800-cv 812 Superfast. The unveiling of this flagship V12 berlinetta is particularly significant, as Ferrari's noble V12 heritage has its roots in the founding of the company, 70 years ago this year, and Ferrari remains to this day the only manufacturer to have continuously produced sports cars with 12-cylinder engines throughout that time.
Powered by a new 6.5-litre V12, the 812 Superfast is the benchmark in the mid-front-engined sports car segment, achieving its maximum power output at 8,500 rpm, which ensures the kind of thrilling top-end performance that is the exclusive characteristic of Ferrari's V12s. Maximum torque is 718 Nm @ 7,000 rpm, a significant 80% of which is already available at 3,500 rpm, improving driveability and pick-up at low revs.
The 812 Superfast is striking for both its highly innovative design and aero package, as well as its unparalleled handling. It is the first Ferrari to introduce Electric Power Steering (EPS) which, in line with Ferrari tradition, is used to fully exploit the potential of the car in terms of performance. The introduction of the Virtual Short Wheelbase 2.0 system (PCV) combines the electric front-wheel steering assistance with the mechanical concept based on tyre dimensions and the rear-wheel steering. All integrated with the vehicle dynamics control systems, based on Version 5.0 of the SSC, with the aim of improving the agility and response time to steering wheel inputs.
The two examples of the 812 Superfast on display feature new colours: the special celebratory Rosso 70 Anni and Grigio Caldo Opaco. The new car is joined on the stand in Geneva by the California T, finished in Bianco Italia, the 488 GTB in Giallo Tristrato, the 488 Spider in classic Rosso Corsa, and the GTC4Lusso in Nero Stellato.
There is also a further example of Ferrari's exclusive liveries developed to celebrate the 70th Anniversary, one of the 70 different Tailor Made offerings inspired by iconic cars in the company's history that are available on each of the five models in the range. The 488 GTB on show is finished in Rosso Corsa with a Blu Laguna and Giallo Modena livery inspired by the 290 MM driven by Juan Manuel Fangio in the 1956 Mille Miglia, which saw Ferraris take the top four places.