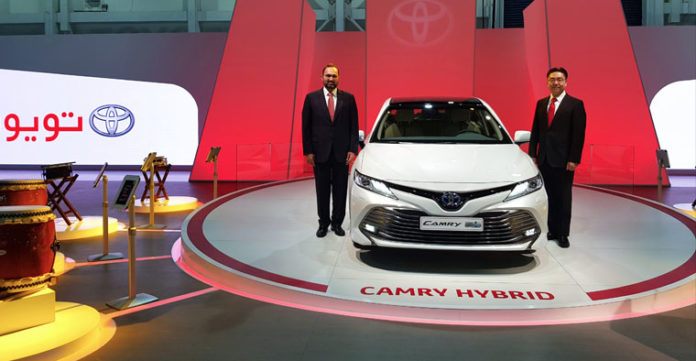 Over 70% fuel efficiency improvement
Going strong on its CO2 reduction agenda, Toyota, exclusively distributed by Al-Futtaim Motors, UAE's leader in sustainable mobility since 2008, reiterated its support to UAE's vision 2021 by launching the 2018 Camry Hybrid Electric Vehicle (HEV) at the 14th edition of the Dubai International Motor Show
In addition to its striking stylish design, the 2018 Camry HEV provides over 70% greater fuel economy than a regular petrol engine Camry, thanks to a revised hybrid system. With a 2.5L engine, the new Camry's improved electric motor produces more torque and helps make acceleration even more responsive, delivering 212 horsepower.
The 2018 model's elevated efficiency arrives with a remarkably stunning drive, that is achieved through a lightweight, 30% more rigid body, a new suspension, state-of-the-art technology, and world-class safety features.
Saud Abbasi, Managing Director of Toyota at Al-Futtaim Motors, said: "Toyota was the first to introduce the Hybrid Electric Vehicle technology to the UAE, through the launch of Camry Hybrid Electric Vehicle in 2008. Today, this model grew to a fleet of over 1500 Hybrid Electric taxis and is expected to cross the 2000 mark by the end of the year. Our recent handovers of Camry Electric Hybrid to key taxi operators confirm that HEV motoring is the most practical low-emission mobility solution that will help fleet operators meet their environmental targets in support of UAE's Vision 2021.