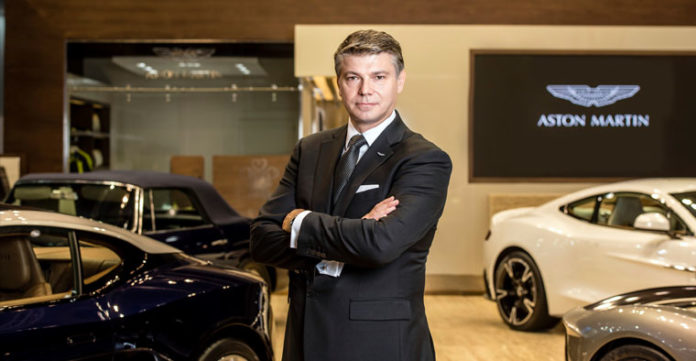 • Middle Eastern show debut of Aston Martin Valkyrie hypercar
• Iconic, rare original DB5 Convertible displayed
• Regional debut of newly launched V8-powered DB11
• Premiere of Middle East exclusive, Vanquish S Pearl Edition
Aston Martin marks the 2017 edition of the Dubai International Motor Show with a show-stopping display of cars, including some of the rarest models ever built amongst several regional debuts.
The Aston Martin Valkyrie hypercar makes a hugely anticipated appearance, being shown for the first time in the region to the public. The product of a unique Innovation Partnership between the British luxury brand and eminent F1TM team Red Bull Racing, this ambitious, uncompromising and wholly extraordinary collaboration combines the vision and skills of two world-leading brands to create a road car the like of which has never been seen before.
The show also sees the hugely iconic DB5 Convertible displayed. Regarded by many as the most beautiful Aston Martin produced, and an evolution of the final series of DB4, the DB5 is famous for being the most recognised cinematic James Bond car, first appearing in the James Bond film Goldfinger in 1964. Just 123 convertible DB5s were produced between 1963 and 1965, making it one of the rarest – and most desirable – models created.

The newly launched V8-powered DB11 is shown for the first time in the Middle East at the show. Aston Martin's definitive GT – the acclaimed DB11 – is now available with a 4.0-litre twin-turbocharged V8 engine. The new powerplant provides the opportunity to reveal more of the DB11's sporting character, while expanding its global appeal with a combination of exceptional performance and improved efficiency.
Also displayed is a Middle East exclusive, the Vanquish S Pearl Edition, limited to just 10 models and inspired by the region's long association with the pearl industry. The Vanquish S Pearl Edition takes the tradition, value and rarity of the pearl, with its regional roots and ties, and uses the artistry of the Q by Aston Martin team to create a truly spectacular car.
"To have such a diverse and renowned array of models on display under one roof in the Middle East is an absolute pleasure. The past few years have been busy ones for us as a marque, and here in-region we are heavily focused on reflecting CEO Dr. Andy Palmer's vision of driving a renewal of the Aston Martin name,