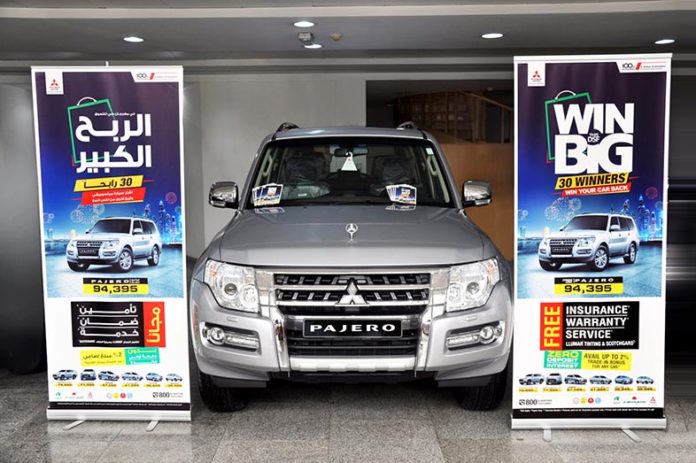 Loads of extra value benefits & chances to win their car back!
Al Habtoor Motors, the official distributor of Mitsubishi in the UAE, adds thrill to this year's DSF festivities with its entire line-up of exciting deals for Mitsubishi customers. The 'Win Big' promotion gives 30 customers a chance to win back a similar model of a car they buy. Adding more value to the offer is a host of free benefits for all Mitsubishi customers.
There is also Free Insurance, Free Service up to 30,000 km, Free 5 Years/100,000 Km Warranty and Free Llumar® Tinting & ScotchgardTM Upholstery Protection. Pajero buyers will get an added benefit of 0% Interest when they opt for their favourite SUV. Furthermore, customers can also avail up to 2% trade-in bonus for any car.
As VAT is being implemented in the UAE starting from 2018, the special DSF prices are all inclusive of VAT. The legendary Pajero is now available at prices starting from AED 94,395, the dynamic Montero Sport from AED 79,695, the stylish Outlander from AED 77,595, the sporty ASX from AED 67,095, the spacious Lancer EX from AED 41,895, the compact Attrage from AED 36,645 and the spirited Mirage from AED 35,595.
"Every year we make it a very special DSF experience for our customers. It is the best time for the ultimate deals which means more value for our customer's money. What makes this year really special is that there are 30 lucky customers who will be winning back a similar model of the car they buy. Not to mention, the whole assortment of freebies and other benefits which will definitely add to the excitement ." said Mr. C.V. Ravin, General Manager Sales – Mitsubishi, Al Habtoor Motors.