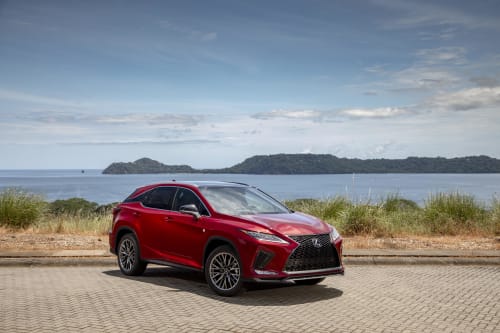 Al-Futtaim Lexus today announced the launch of the 2020 Lexus RX luxury crossover, in both petrol and Hybrid Electric options.
Refreshing the fourth-generation of the model, the new RX features evolutionary changes to the brand's core model, which helped establish the luxury SUV segment when it was first introduced in 1998. For the 2020 model, the luxury crossover gets a number of updates with the changes focused on styling, technology and safety.
Mohammed Maktari, Managing Director, Al-Futtaim Lexus, said, "With the latest updates, the RX is truly in a class of its own. The new model features a range of interior and exterior enhancements build on the iconic luxury crossover's appeal that contributes to the reinvigorated design and comfort of its driver and passengers.
"With the 2020 RX, Lexus has improved the tried and tested hybrid electric system and the new RX 450h and RX 450hL continue to serve as a powerful reminder of the brand's hybrid leadership. The Hybrid Electric variants also further reinforce our commitment to the UAE Governments 2021 vision and provide an appealing option to individuals and families looking to reduce their carbon footprint."
Lexus introduced the world's first luxury self-charging RX Hybrid Electric Vehicle (HEV) more than a decade ago and the Japanese brand has sold over a million HEV's worldwide since the first generation of the RX400h was introduced.
All Lexus HEV's combine the power of petrol with the efficiency of an electric motor to deliver the perfectly balanced, smooth and high-performance drive. From idle, the vehicle starts off using the electric motor only for seamless acceleration to road speed where the gasoline engine kicks in. The two power sources work together to deliver an amazing driving experience and no 'shift shock.' The electric motor is self-charging so there is no need to plug in your car, therefore, no additional infrastructure like charging stations are require
Lexus HEV Technology
The Hybrid technology switches off its gas engine while decelerating and coming to a stop which means fewer fuel stops, more savings and no range anxiety compared to Electric vehicles. The 2020 RX hybrid, with 308 combined system horsepower provides an estimated 62.5% more fuel efficiency (13.1 Km/L vs 8.0 Km/L in city driving) and produces 31% fewer emissions compared to its gasoline counterpart.
Extended Warranty on Lexus HEV battery
Providing customers with an added peace of mind, starting this month, Al-Futtaim Lexus is offering customers purchasing Lexus Hybrid models with an exclusive 8 years/160,000Km Hybrid Battery Warranty.