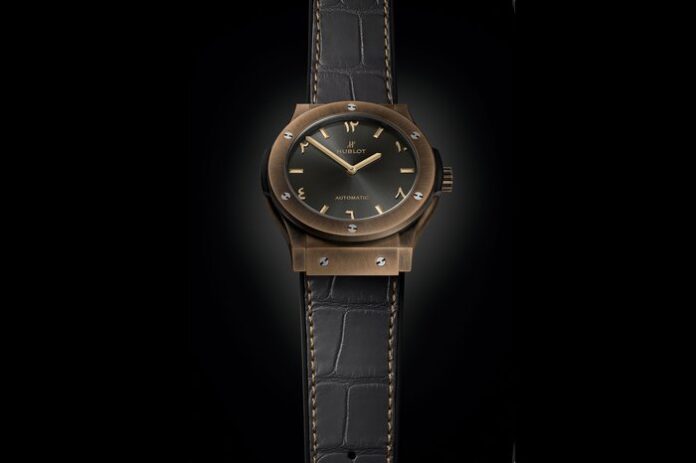 The fusion of a timeless material and a non-traditional mechanism.
Building on their successful, shared "Vision" of being different and unique, Hublot and UAE partners Ahmed Seddiqi & Sons launched an all-new timepiece on November 22: the Classic Fusion Special Edition Bronze Anticlockwise. This is Hublot's first-ever watch made fully from bronze, with a grey dial, and featuring an anticlockwise movement, another first for the watchmaking brand.
David Tedeschi, Regional Director for Latin America & Caribbean and Middle East & Africa, and Ahmed Seddiqi & Sons Chief Commercial Officer Mohammed Abdulmagied Seddiqi presented the piece to press and collectors during Dubai Watch Week 2019.
As modern-day alchemists, we always strive to find original ways of connecting the past to the future. For that, we looked into turning back time with our completely new anticlockwise movement, which we housed in a case made from bronze, one of the first-ever alloys to be used by man. We are excited to launch this exclusive watch with our partners Ahmed Seddiqi & Sons who share our passion for innovation and our different approach to time