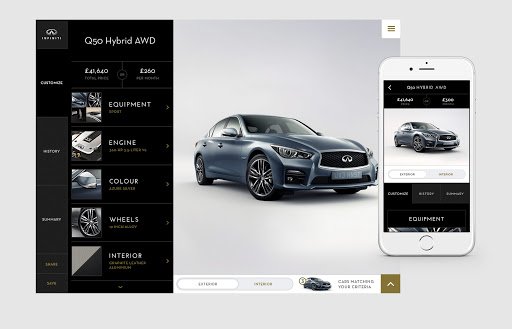 INFINITI Middle East is set to revolutionise the customer experience in the digital era by launching the 'showroom of the future', the INFINITI Configurator. Available in 11 markets including UAE, KSA, Kuwait, Oman and Lebanon, the virtual experience brings the dealership to car buyers wherever they are using high quality, realistic visualisation and customisation content. Through the interactive configuration panel, customers can explore and modify six INFINITI models at the touch of a button, before requesting a quote, booking a test drive, or sharing a personalised configuration with anyone to view.
"Automotive brands are facing the priority of joining the physical world with the digital one, INFINITI has now taken another step to allow customers to connect with our brand anytime and anywhere", said Markus Leithe, Managing Director of INFINITI Middle East.
"As a forward-thinking region, we are proud that the Middle East is the driver and testing ground of the INFINITI Configurator, and look forward to connecting with our customers on new levels."
The INFINITI Configurator is accessible through INFINITI's dealership websites in the region and is designed to be engaging, interactive and innovative. Users can explore seven car models and learn about their features and specs through interactive hotspots, including flagship SUV's, the QX80 and QX50. In addition to viewing the car's exterior and interior in 3D, users can customise the colours and finishes, hear each car's unique sound with an engine start-up, and place the model in a true-to-life background to get the car's perspective in a realistic scenario. Users can then get a quote, book a test drive, and/or share the personalised configuration with anyone or download to view offline, which works seamlessly on all devices (pc, mobile, tablets) for an optimised experience.
The platform usability aims to support the customer in their journey when consideration INFINITI products without having to visit a showroom. INFINITI anticipates the growth of the e-commerce platform by expanding features towards end of year that will enable customers to pay a deposit and check available stocks online.