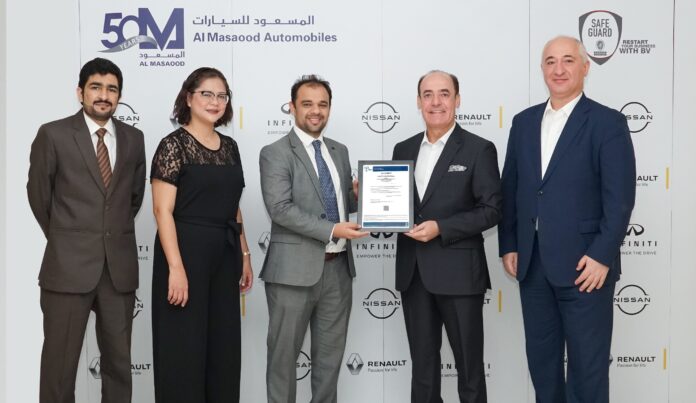 Al Masaood Automobiles, an icon of the UAE's automotive sector and exclusive distributor of Nissan, INFINITI, and Renault in the Emirate of Abu Dhabi, is now the first automotive dealership in Abu Dhabi and the whole GCC region to receive the 'Safeguard' Label for its Sales and Aftersales operations; awarded by Bureau Veritas, a global leader in testing, inspection and certification services. Al Masaood Automobiles has become the first company in Abu Dhabi to receive this accreditation across all sectors.
This prominent accreditation was conferred to Al Masaood Automobiles after it passed the Bureau Veritas' remote and field audits, which verified the company's implementation of stringent health, safety, and hygiene measures across all its facilities. In conducting its 'Safeguard' Label audits, the Bureau Veritas uses checklists developed in collaboration with a group of health, safety, and hygiene specialists following its Preventive Excellence Program. The measures, as per the audit results, are found to be fully effective in terms of reducing possible risks at Al Masaood Automobiles' showrooms and service centers, resulting in world-class protection of all its employees and customers.
As part of the Bureau Veritas' 'Restart Your Business with BV' program, the 'Safeguard' Label ensures that the health, safety, and hygiene procedures as well as relevant best practices put in place at Al Masaood Automobiles' facilities meet the local and international regulations and standards.
Irfan Tansel, Chief Executive Officer, Al Masaood Automobiles, said: "We are immensely proud to become the first automotive company in Abu Dhabi and the whole GCC region to be 'Safeguard' certified. With the 'Safeguard' label, we further highlight our efficient and effective quality, health, safety and hygiene measures and processes. This distinction, which forms part of what makes Al Masaood Automobiles a leader in the UAE's automotive industry, will lead to complete confidence in our set protocols."
"We thank the Bureau Veritas for this milestone, which validates our team's hard work and tireless efforts to provide products and services in keeping with the highest global safety standards. As we navigate the new normal, this certification reflects our readiness to face challenges and seize fresh opportunities for the benefit of all our employees and customers. This is a big leap forward for Al Masaood Automobiles as it drives closer to realizing its objective of being the best of the best in everything," Tansel added.
Sofien Masmoudi, Vice President – Bureau Veritas Group- Abu Dhabi, commented: ''We are very proud to be associated with Al Masaood Automobiles in their efforts to make a difference for their clients and employees by implementing Bureau Veritas' 'Safeguard' Label. This is a proactive endeavor by Al Masaood Automobiles to make a difference and demonstrate their readiness to welcoming their clients in a healthy and safe environment throughout the emirate. For almost 200 years, Bureau Veritas' mission has been to shape a world of trust. Adapting to the current sanitary crisis, we have developed the 'Safeguard' label and we have the ability to address the new expectations of our society in terms of health and safety with this label.''
Al Masaood Automobiles holds decades of global automotive experience that enables it to benchmark against the highest standards of service, with its aftersales and quality control service being among its renowned strengths as a market leader in the UAE and the region.
About Al Masaood Automobiles
Al Masaood Automobiles – authorized distributor of Nissan, INFINITI and Renault in Abu Dhabi, Al Ain and the Western Region for over 36 years, brings to its customers a complete range of the most reliable 4×4, luxury, passenger and commercial vehicles, efficiently catering to a large and diverse number of individual, fleet and government users. Al Masaood Automobiles' extensive network coverage includes 8 showrooms for new cars, and 3 showrooms for used cars in Abu Dhabi, Al Ain and the Western Region – including the flagship showroom complex at Musaffah with dedicated new vehicle delivery centre; 6 Service Centres and 7 Spare Parts outlets. Recently the company inaugurated the state-of-the-art 'R-Store' as an innovative one stop shop for Renault customers. Al Masaood Automobiles had previously scooped the prestigious Nissan Global Dealer Award in 2013 and 2019, and has been the recipient of the 'Exemplary Performance in Sales and Customer Experience Award' by Nissan in the year 2017. Al Masaood Automobiles was also titled as the winner of the Renault Global Partners Award, "P.A.R.I.S. Challenge" for the year 2019. The company enhances its success through strong tie-up with leading banks, offering to its customers easy finance solutions and facilitating purchase process with insurance, finance and accessories under one roof.