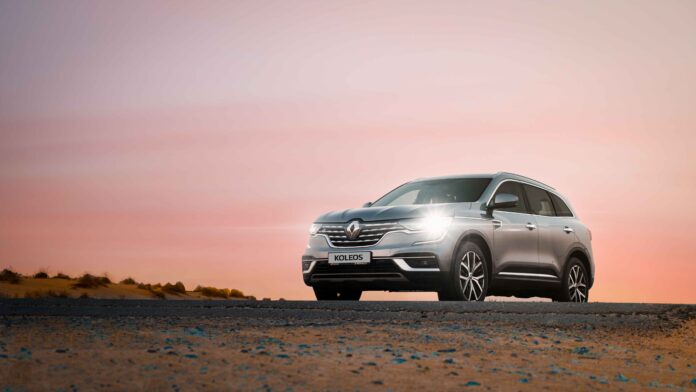 If you are on the market for an award-winning sub-compact SUV that flows with assertive and charismatic style, Arabian Automobiles, the flagship company of the AW Rostamani Group and the exclusive dealer for Renault in Dubai, Sharjah and the Northern Emirates, wants you to make the 2022 Renault Koleos your car of choice.
With its athletic profile, robust front end, and all-mode 4×4-i transmission, the 2022 Renault Koleos comes with redesigned headlights, rear and indicator lights, a choice of colors for the seats, and all-new black titanium trims that replace the predecessor's wooden trims.
Let's talk comfort now. Packed with ventilated memory seats and a spacious cabin — the SUV's multiple storage areas and sliding armrest ensure everyone has a place to store their belongings.
Whether your passengers constitute friends setting out on a quest to new areas or family members heading out for a weekend getaway, everyone will feel comfortable, especially when considering the 2022 Koleos offers a segment-first 289mm legroom which is enough space for all those memories you are about to create.
Arabian Automobiles is also offering 1-year insurance, 3-years free servicing, and 5-year warranty with every newly purchased 2022 Renault Koleos. Book a test drive by visiting Renault showrooms across Dubai, Sharjah and the Northern Emirates, and enjoy the car's ambient lighting, Apple CarPlay/Android Auto connectivity, R-LINK 2 that outclasses the usual functions of on-board multimedia systems, with unparalleled ergonomics.
About Arabian Automobiles Company
Arabian Automobiles Company (AAC) is the flagship company of AW Rostamani Group. With 50 years in the business, AAC is one of the leading automotive dealers in the GCC and exclusive distributor for Nissan, INFINITI and Renault vehicles in Dubai and the Northern Emirates. Arabian Automobiles is looking back on 50 years of excellence and passion, and forging ahead with its vision to enrich customer lives and remain the trusted automotive brand of choice.
Arabian Automobiles became the first automotive company in the UAE to be awarded the prestigious 'Dubai Quality Gold Award' by Dubai Economy in May 2017. In the same year, INFINITI won 'Best Performing Brand' in the automotive category of the Dubai Service Excellence Scheme; an accolade previously won by Nissan in 2016 and Renault in 2015. In 2015, Arabian Automobiles received the Mohammed Bin Rashid Al Maktoum business award for most outstanding performance and in 2013 it became the first private company in the UAE to be inducted into the prestigious Palladium Balanced Scorecard Hall of Fame for strategy execution. Arabian Automobiles Company is currently the holder of Nissan Motor Company's 'Global Nissan Aftersales Award and is the only Nissan distributor to have won the award for ten years in a row.