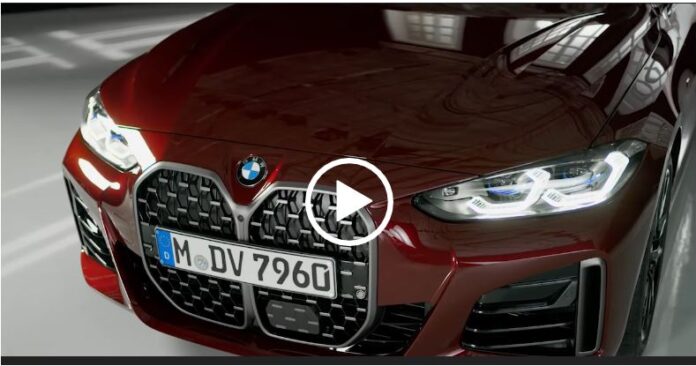 With the original BMW 4 Series Gran Coupé having enjoyed significant success, a second-generation model is now being added to the latest 4 Series range. The new four-door coupé captures the imagination with its noticeably enhanced driving dynamics, a sharper design following the BMW brand's new design language, a refined premium feel for its interior and a host of innovations in the areas of operation and connectivity. In addition to the driving pleasure and sporting elegance for which BMW is renowned, modern functionality is central to this gran coupé concept for the premium midsize segment. Comfortable access to the rear compartment, five full-size seats, a large tailgate and a variable-usage load compartment ensure the new BMW 4 Series Gran Coupé retains its model-specific skillset in everyday driving and on longer trips.
This time around, a performance version of the new BMW 4 Series Gran Coupé courtesy of BMW M GmbH will be available from the car's market launch (due to get underway in November 2021) alongside four other model variants. All will be built under a flexible manufacturing process at BMW Group Plant Munich on the same line as the all-electric BMW i4 and the BMW 3 Series Sedan and BMW 3 Series Touring models.
Distinctive proportions, highly versatile interior.
The standalone character of the new BMW 4 Series Gran Coupé is clearly expressed in its exterior design. Measuring 4,783 millimetres in exterior length, 1,852 millimetres in width and 1,442 millimetres in height, it has distinctive proportions combined with dynamically stretched coupé lines. It is 143 millimetres longer, 27 millimetres wider and 53 millimetres taller than its predecessor, while the track widths have also grown – to 1,595 millimetres at the front (+50 mm) and 1,623 millimetres at the rear (+29 mm). The wheelbase of 2,856 millimetres is 46 millimetres longer than the predecessor's and 5 millimetres more than the figure for the 3 Series Sedan.
The model-specific body concept results in a versatile interior offering generous amounts of space in the rear. The new BMW 4 Series Gran Coupé offers 470 litres of boot space, the primary capacity in the directly viewable area of the boot having grown by 39 litres. Load capacity can be expanded to a maximum of 1,290 litres by folding down the sections of the rear backrest, with its standard 40 : 20 : 40 split.