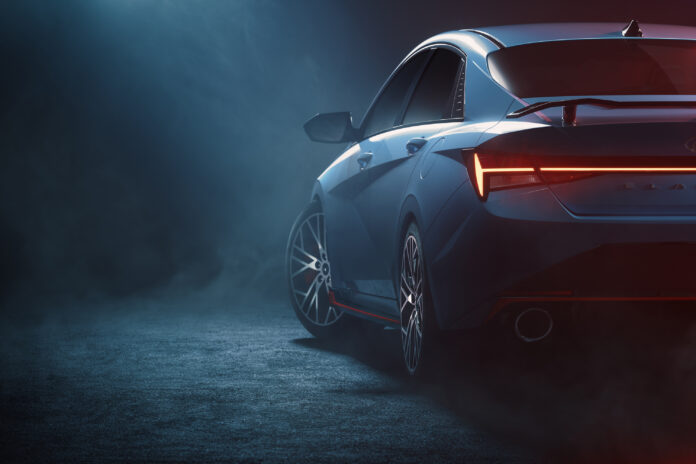 Hyundai Motor Company today revealed the first glimpse of Elantra N, the latest addition to its high-performance N range. This is Hyundai Motors' sixth N brand model, following the unveiling of Kona N in April this year.
Elantra N is the high-performance variant of the all-new Elantra model launched in April 2020, distinguishable by its 'Parametric Dynamics' design theme that imparts a look of sophisticated sportiness. Hyundai N designers took cues from the curves and lines of a sculpture to give the car a powerful and athletic stance.
"Elantra N is a high-performance sedan that reveals the sportier side of our exceptional all-new Elantra through exciting N brand enhancements," said Till Wartenberg, Vice President of N brand Management & Motorsport sub-division at Hyundai Motor Company. "We designed it to be a race proven sportscar with dynamic driving capabilities and style that performance enthusiasts love. I can't wait to unveil Elantra N, an outstanding addition to the N brand lineup that offers pulse-pounding performance. Stay tuned for the digital world premiere."
Elantra N's racecar look can be seen in the bright red N dedicated side sills that not only help boost performance by better channeling airflow, but also create the effect of a lowered chassis. Complimenting the overall exterior styling is a distinctive N-exclusive rear spoiler that counteracts lift by preventing airflow from tumbling over the rear edge, which increases driving stability at high speeds. Additionally, the bold black trim beneath the rear bumper and its dual single exhaust creates a different look from the standard model, further underlining the Elantra N's sporty credentials.
With the introduction of Elantra N, Hyundai Motor now offers a wider range of Elantra models—including the all-new standard Elantra and Elantra Hybrid—for discerning customers to choose.