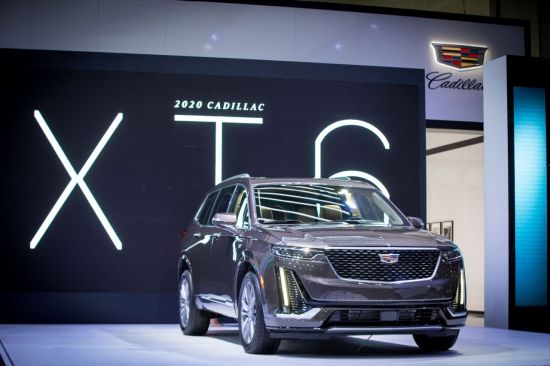 Middle East premiere of the Cadillac CT5 Sedan, alongside the introduction of the 2020 Cadillac XT5 and XT6 SUV range offer a glimpse into the brand's future.
The 2019 Dubai International Motor Show witnessed the regional introduction of three new Cadillac models including the first-ever CT5 Sport Sedan alongside the first-ever XT6 and revamped XT5 SUV. Opening new market segments, the freshest line-up marks a new direction for Cadillac and perfectly embodies power, presence and performance whilst keeping the true spirit of the brand at its core.
"We wanted to use the incredible platform that 2019 Dubai International Motor Show offers to introduce our most aggressive line-up to date to our Middle East customer base," said Christian Soemmer, Managing Director Cadillac International Operations and Cadillac Middle East.
"Every element of the first-ever Cadillac CT5 is focused on delivering an unrivaled experience in a sport sedan for our customers, we also debuted the first-ever XT6 and our revamped global best seller the XT5 completing our full SUV line-up offering our customers even more choice. With even more choice with an XT4, XT5, XT6 and iconic Escalade, our customers can choose from a variety of Cadillac SUVs that all offer a compelling blend of spaciousness, safety and convenience features."
The first-ever Cadillac CT5 – a look into the brand's future
The CT5 charts a new direction for Cadillac and is the epitome of luxury in the modern age. The all-new CT5 sport sedan advances the brand's award-winning legacy with a distinctive fusion of design, performance and comfort, supported by Cadillac's latest technologies. The CT5 model range includes Luxury, Premium Luxury and Sport, with a Platinum package available on Premium Luxury and Sport models allowing customers to tailor the car to their style preferences with unique design and trim.
Advanced built-in technology and connectivity in the new CT5 offers drivers a world-leading in-vehicle experience. This is expressed in everything from vehicle controls that conform to the driver's driving style to the latest, more personal Cadillac user experience, providing more intuitive ways to interface with the Cadillac Infotainment System – including phone pairing via Near Field Communication and a new rotary controller.
Building on the strengths of the superb RWD architecture that underpins Cadillac's award-winning rear-wheel-drive sedans, the first-ever CT5 is designed to deliver an exhilarating driving experience while maintaining the brand's signature blend of performance, comfort and refinement.