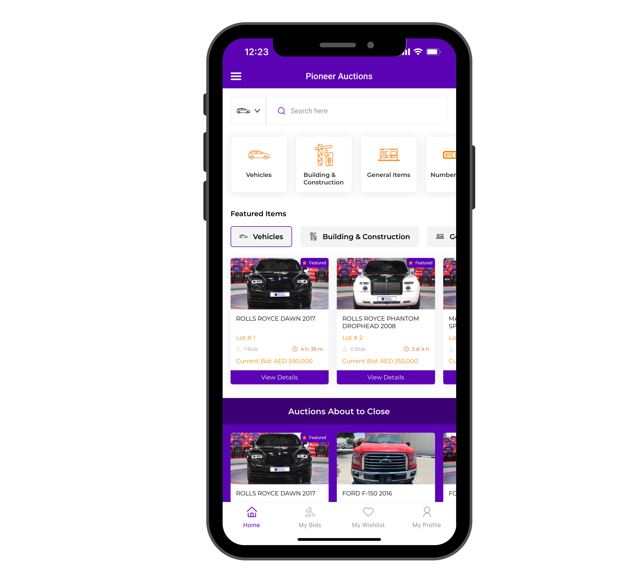 One of UAE's leading government-accredited auction houses, Pioneer Auctions, recently announced the launch of a new mobile app for its online and offline car auction platform to provide users with a more seamless online bidding experience. The industry-leading car auction service provider also leveraged their auction digital platform to be available on a 24/7 basis for users.
Established in 2008 as a part of the ARMS Group of companies, Pioneer Auctions was one of the first auction houses in the UAE to allow customers to bid in real-time, through its live-streaming services. The company started off as a place to auction cars only and over the years, has expanded exponentially, adding diverse categories to the list of offerings, which include: building and construction, general items, car number plates and many more items which will be added to their inventory list in the near future.
In line with their mission to provide the highest standard of auction services and bridging the gap between buyers and sellers by offering a quick, easy and reliable automobile auctioning experience, Pioneer Auctions lately reinforced its online auction platform by developing a state-of-the-art mobile app that is powered by an advanced auction technology platform, AucTech.
Pioneer Auctions' new mobile app will enable buyers and sellers to experience an easier and faster bidding process, which can be conducted directly through a mobile device on a 24/7 accessibility basis. All car bidding transactions on Pioneer Auctions' online platform are safeguarded by a secure payment gateway. As part of celebrating the launch of their new mobile app, Pioneer Auctions will be granting their customers a special discount rate of 50 percent on buyer's fee, which will be applicable for purchased vehicles via its online auctions, mobile app or website this November.
The company's main business model is comprised of creating a seamless auctioning experience through their fascinating live auction hall, where sellers can feature their cars on a 360-degree rotatable podium, enabling buyers to enjoy their bidding experience to the fullest. In addition, Pioneer Auctions is the only auction house in the region that provides its clients with weekly live bidding sessions, which are also live streamed online on its website and newly launched mobile app now.
As a leading online car auction operator, Pioneer Auctions welcomes clients and audiences from a variety of segments, from car showrooms and tradesmen, banks, contractors, developers, all the way to individuals as 'sellers' or 'buyers'. These buyers include large businesses like construction companies and end-users such as passionate car collectors.
Commenting on the launch of their new mobile app, AbdelRahman Rashwan, Marketing Correspondent at Pioneer Auctions, stated: "We have always aspired to become the go-to auction house in the UAE and MENA region by providing our customers with exceptional services and the best deals in the market. The launch of our mobile app underlines our aspiration to provide a truly effortless 'click of a button' auction experience that is available on a 24/7 basis."