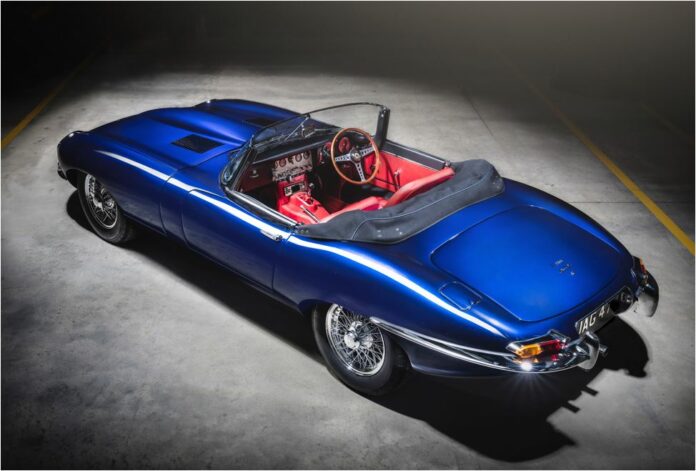 Jaguar Classic showcased a bespoke 1965 Series 1 Jaguar E-type Roadster at the Queen's Platinum Jubilee Pageant
One-of-a-kind example showcases full capabilities of Jaguar Classic and its ability to comprehensively update E-types
Special commission features unique paintwork inspired by the Union Jack, a 4.7-litre straight-six engine, five-speed gearbox, uprated suspension and brakes
Bespoke interior completed in-house by Jaguar Classic trim shop and inspired by iconic British pillar boxes
Customer requested a Roadster from the year he was born, and Jaguar Classic's sourcing team tracked an E-type built to just two days of the customer's birthday
Jaguar Classic showcased a bespoke Jaguar E-type at the Queen's Platinum Jubilee Pageant on 5 June 2022. The one-off renovation features a comprehensive list of enhancements carried out by the expert technicians at Classic Works, and metallic blue paintwork inspired by the Union Jack.
The unique E-type made its debut alongside fifteen iconic Jaguars to feature in the Jubilee Pageant, including a selection of historically important Jaguar E-types, an all-electric I-PACE eTROPHY race car, and seven convertible Jaguars all carrying famous Dames. The customer, thrilled to participate, was joined by American dancer, model, and fashion designer, Eric Underwood in the passenger seat.
Jaguar Classic creates beautifully crafted E-types by restoring Series 1 models to their original specification. This bespoke example goes even further, showcasing the full breadth of personalisation available from its state-of-the-art home in Coventry.
The one-off E-type was commissioned by a client who had specific requirements. He wanted a Roadster manufactured in the year he was born and finished to a bespoke specification. The team at Jaguar Classic set to work and tracked down a Series 1 E-type that was built just two days after the customer's date of birth.
Over the following 12 months, the car underwent a complete rebuild, beginning with the bodywork. Finished in a unique deep metallic blue inspired by the blue of the Union Jack, the new blue, was exclusively mixed by the paint shop following numerous consultations and sample creations to craft the perfect hue over several months.
The bespoke interior features striking leather upholstery finished in a shade of red inspired by iconic British pillar boxes, and was hand finished using traditional methods at the in-house Jaguar Classic Works trim shop.