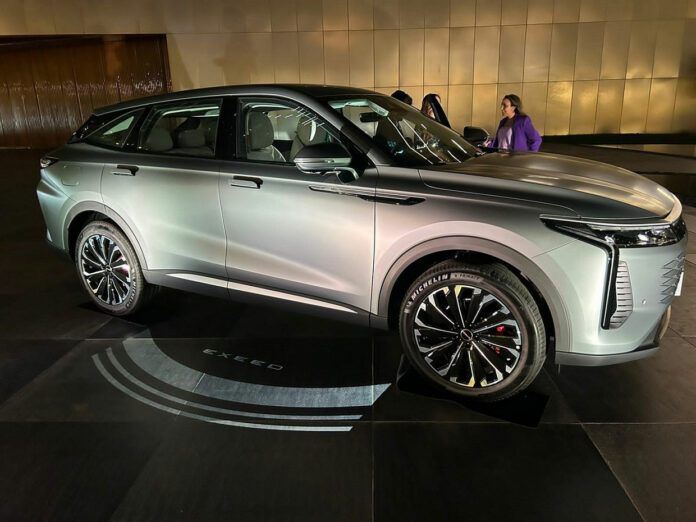 EXEED Motors, a renowned premium vehicle brand represented by AG Auto in the UAE under Al Ghurair Investment, has entered the country's automotive sector with the launch of the highly anticipated EXEED RX model. The launch took place on August 30, 2023, at the Armani Ballroom in Burj Khalifa, Dubai. With a reputation for elegant design and reliable performance, EXEED Motors aims to redefine the premium automotive segment in the region with the EXEED RX.
The launch event introduced the RX model along with EXEED's other premium vehicles, including the VX, TXL, and LX car models. This diverse lineup underscores the brand's commitment to innovation and quality. The RX model, in particular, sets new standards in this segment by offering a blend of performance and finesse.
The new EXEED RX stands as a testament to automotive perfection, showcasing the brand's dedication to excellence. Its captivating design features a borderless middle grille and X-shaped star track daytime running lights. The distinctive LED light arrangement forms the Greek letter 'Σ', complemented by an intelligent light system that synchronises with the vehicle's music. A star-ring projection design further marries technology and elegance.
The RX model boasts impressive handling and comfort, thanks to its well-proportioned suspension structures, 20-inch wheels with minimal wind resistance, and thoughtful design elements like the spoiler inspired by Warcraft tails. This design philosophy perfectly aligns with EXEED's 'Born for More' slogan, showcasing both aesthetics and cutting-edge features.
Michael Montgomery, CEO – Ventures at Al Ghurair Investment, stated: "The EXEED RX redefines the premium automotive segment, highlighting our commitment to excellence. Collaboration with top European designers, engineers, and suppliers has allowed us to set a new benchmark for engineering and innovation."
He added, "Every detail of the EXEED RX is meticulously designed to offer an unparalleled driving experience. Our partnerships with industry leaders like Intel, Bosch, and Magna further ensure the implementation of cutting-edge technologies that enhance the driving experience. We look forward to delivering exceptional value to the UAE market and meeting the demands of automotive enthusiasts."