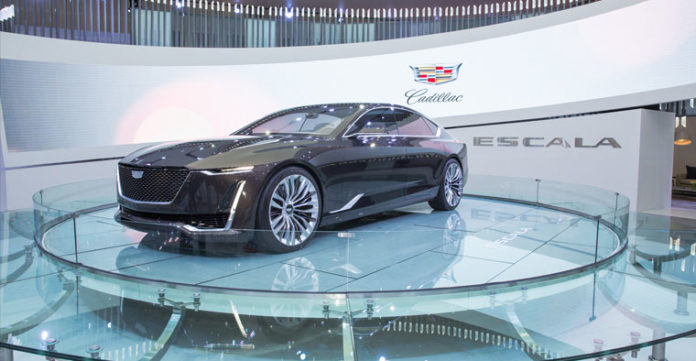 • Middle East premiere for Escala Concept
• Regional debut of redesigned XTS sedan
• Launch of 2018 model line-up, including Escalade, CT6, XT5 and V-Series high-performance cars
Making its first appearance in the Middle East, the Escala Concept car formed the centerpiece of the Cadillac stand at this year's Dubai International Motor Show (14-18 November) as visitors received a tantalizing glimpse at the future direction of the brand.
The future is certainly bright for Cadillac, with the Escala amplifying its new design DNA and the brand currently introducing industry-leading technologies such as Super Cruise. But the show also provided an opportunity to view new models that are set to entice today's buyers: the redesigned XTS sedan enjoyed its regional launch, alongside 2018 versions of favorites like the Escalade, CT6 and XT5.
Designed to be both a driver's car and an indulgent flagship sedan, Cadillac's Escala showcases future design and technical systems, including a prototype 4.2-liter twin-turbo V-8 engine, and is a concept for a more expressive, expansive companion to the current range-topper, the CT6.
The large 4-door sedan features an expansive lift-back design, and at 5347mm is 163mm longer than the CT6. The new face of Cadillac design will begin appearing on production models soon and includes a new expression of Cadillac's signature vertical lighting – thin, deep-set organic light emitting diode (OLED) elements give it a sinister look. This is complemented by a three-dimensional precision pattern in the grille design and 22-inch wheels with two layers of spokes.
Three very thin, curved OLED screens feature prominently in the front, consolidating the traditional "cluster