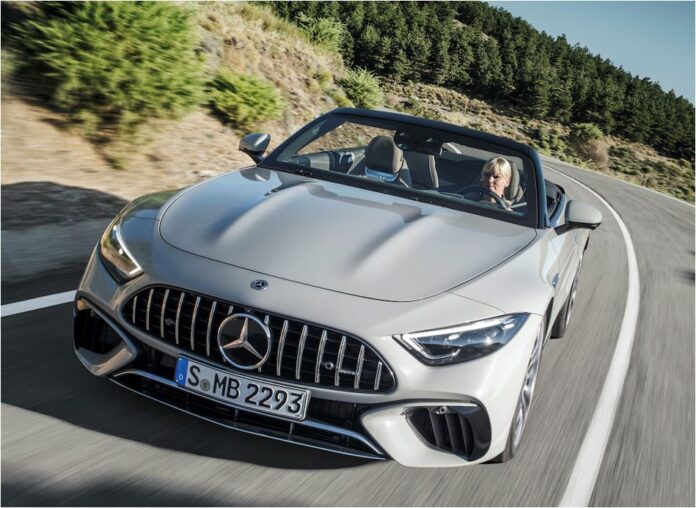 The new Mercedes-AMG SL, the new edition of an icon, returns to its roots with a classic soft top and sporty character. At the same time, the luxurious roadster as a 2+2 seater is particularly suitable for everyday use and puts its power down on the road with all-wheel drive for the first time. High-tech components such as the AMG ACTIVE RIDE CONTROL suspension with active anti-roll stabilisation, rear-axle steering, the optionally available AMG ceramic high-performance composite brake system and the standard-fit DIGITAL LIGHT with projection function sharpen the sporty profile. In combination with the AMG 4.0-litre V8 biturbo engine, this results in a driving experience of the highest order. As a consistent Performance Luxury model, Mercedes-AMG in Affalterbach has developed the SL completely independently. Two models with AMG V8 engines will kick off the market launch.
Almost 70 years ago, a sports car launched in Stuttgart immediately became a legend. The vision of expanding the potential of the Mercedes-Benz brand through motor racing successes produced the first SL as a result – a road-going racing sports car. Shortly after its début in 1952, the 300 SL (internal designation W 194) reaped success after success on the race tracks of the world. In its first year, it achieved, among other things, a spectacular one-two victory in the legendary 24 Hours of Le Mans and even took the first four places in the Nürburgring Grand Jubilee Prize for sports cars. Its successes quickly make the SL a legend.
The successful racing car was followed in 1954 by the 300 SL production sports car (W 198), which is called the "Gullwing" because of its unusual doors. In 1999, a jury of motoring journalists voted it the "Sports Car of the Century". Other highlights of the model history include the "Pagoda" (W 113, 1963-1971), the evergreen R 107 (1971-1989), which was built for 18 years, and its successor, the R 129, which is considered an automotive sculpture because of its striking wedge shape. The abbreviation "SL" to this day thus stands for one of the few genuine automotive icons in the world.