The darkest and most best handling Rolls-Royce ever made
Torsten Müller-Ötvös, the Chief Executive Officer of Rolls-Royce Motor Cars, says that "….Black Badge is an attitude to life, an aspect of the Rolls-Royce brand that appeals to those people who are elusive and defiant… Technically and aesthetically Black Badge is the alter ego of Rolls-Royce, darker, more assertive, more confident and powerful, and more demanding".
The aforementioned is perhaps the most polite and classy way of stating that there is a new generation of younger, successful, self-confident, and more importantly high net worth individuals who have chosen a Rolls-Royce motor car as a reward for their success.
Since Rolls-Royce is all about customising its customers' perfect vehicles, the company is now offering a more powerful driver-centric version of the Wraith, with a blacked out treatment (for lack of a simpler description) to appeal to this younger demographic.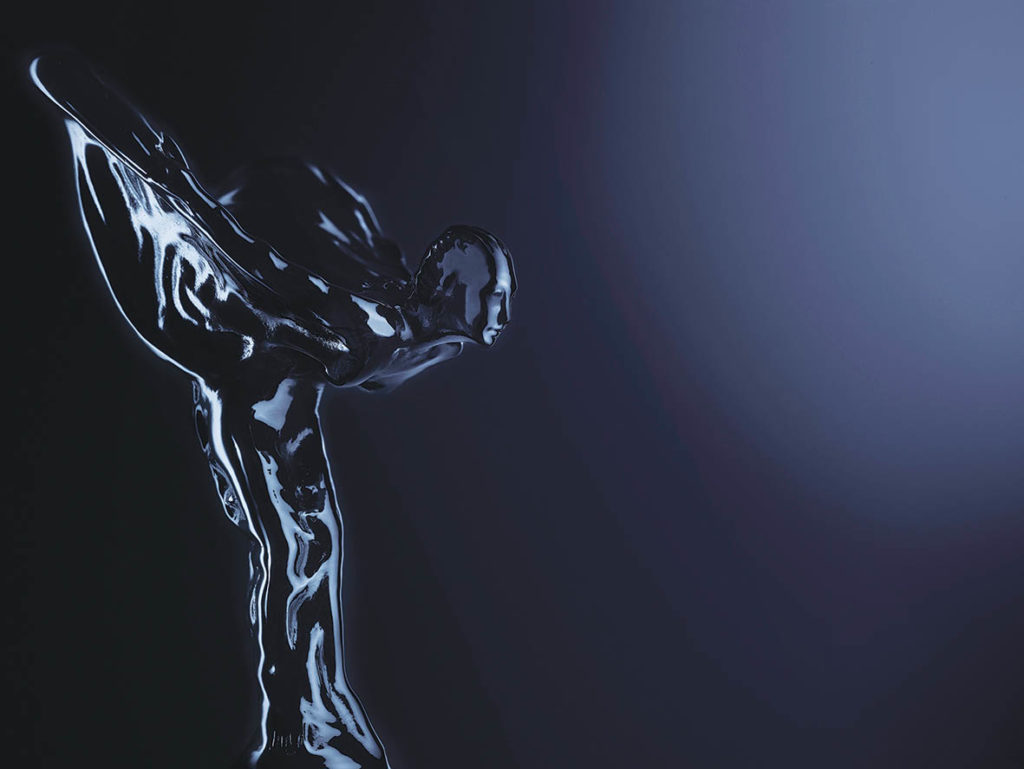 A permanent Bespoke series
In an unprecedented collaboration with these new and younger customers, Rolls-Royce Motor Cars has created 'Black Badge' as the alter ego of the Rolls-Royce Wraith coupé and Ghost limousine. Peel back the marketing speak and you'll actually find that the treatment is delightfully more complex and spectacular than a simple blacked-out treatment.
Giles Taylor, Director of Design, Rolls-Royce Motor Cars says, "In creating Black Badge, we were conscious of satisfying the different demands of these new customers. Not only did they demand an alternative image for themselves, they demanded authentic Rolls-Royce engineering substance to underpin it. As a result, the Black Badge Spirit manifests itself through a series of carefully considered design elements which together express a darker luxury sophistication. New material accents and tonalities are combined to accommodate the tastes of those fast-moving customers who adopt a strident approach to life's finer challenges."
With this manifesto as their departure point, Rolls-Royce designers, engineers and craftspeople set to work transforming Ghost and Wraith in subtly different ways. Their intent was to deliver darker, more assertive and more focused Black Badge alter egos that differ from each other as much as they do from their siblings.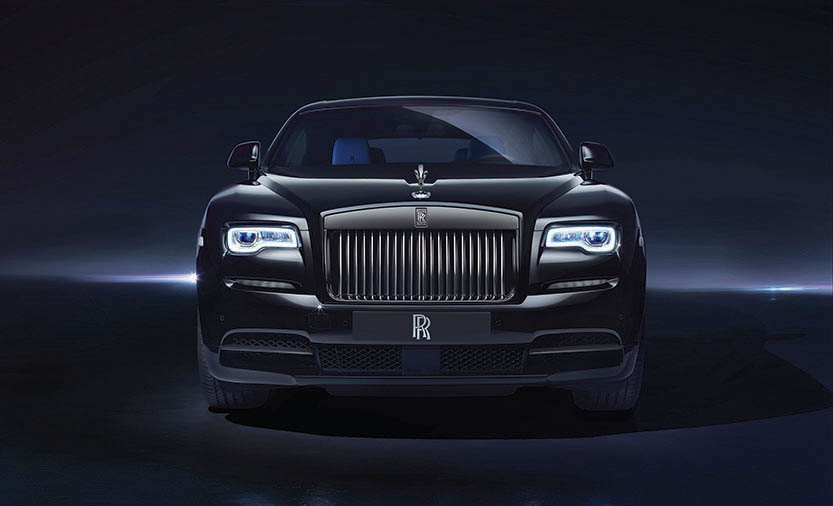 What's different?
First and foremost, the Black Badge Series is more than just a cosmetic upgrade. The heart and soul of both the Wraith and Ghost have been enhanced to provide even more power and performance.
The Black Badge Wraith is in fact the most powerful Rolls-Royce in the fleet at 623 hp produced by a twin turbocharged 6.6-litre V12 engine. To complement the extra power, there is 70Nm more torque than the standard car. The Black Badge Wraith's Intuitive Throttle Response has also been tweaked to hold each of the eight satellite-aided gears longer, delivering increased power more aggressively.
Rolls-Royce engineers then added new drive shafts, larger brakes, a completely redesigned air suspension setup, and tighter steering to complete the package. The result is an even more driver-focused, agile Wraith, while still preserving the intrinsic elements of the effortless Rolls-Royce Magic Carpet Ride.
The power of Black Badge communicates itself into the ground through new composite carbon fibre and lightweight alloy wheels unique to each Wraith Black Badge commissioned.
Developed by Rolls-Royce after four extensive years of engineering and testing, the new wheels feature 22 layers of carbon fibre laid in three axes, and folded back on themselves at the outer edges of the wheel rim to provide 44 layers of strength. Further strength is added via the 3D forged, aircraft-grade, aluminium hub, which is bonded to the rim using aerospace strength titanium fasteners.
Even the darkened Spirit of Ecstasy, grilles, and air vents have undergone a special process to ensure the quality that one would expect from a Rolls-Royce. This expensive surfacing process, called Physical Vapour Deposition, is one of the few ways to colour metal whilst ensuring that the parts will neither discolour nor tarnish over time or through repeated use. Indeed, the "Flying Lady" now mutates into a "high-gloss black vamp" (their words, not ours) proudly scything through the night-time cityscape.
The Double R badge on the prow, flanks and aft of every Black Badge motor car invert to become silver on black, whilst chrome surfaces such as the front grille surround, boot lid finisher, lower air inlet finisher and exhaust pipes, turn dark.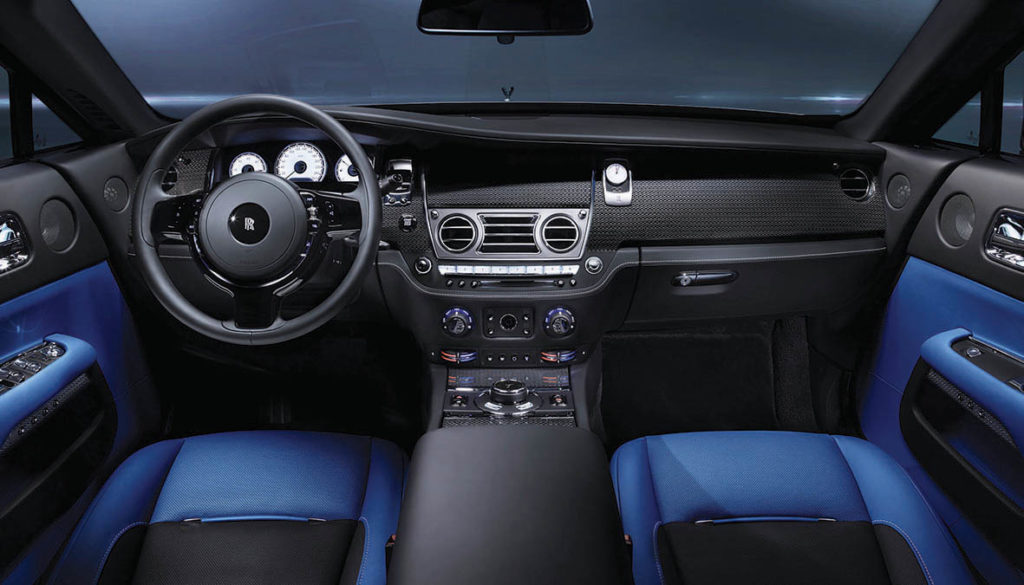 A transformative cabin
The centrepiece of the Black Badge cabin is the aerospace-grade aluminium-threaded carbon fibre composite surfacing – material often seen on the surfaces of stealth aircraft. This futuristic material, found on the dashboard and various other trim pieces around the cabin, has been reinterpreted by the craftsmen and women at Rolls-Royce's Goodwood factory to become the world's most innovative new super-luxury material.
Threads of aircraft grade aluminium just 0.014mm in diameter are painstakingly woven together before being bonded with carbon fibre. This surface material then has six coats of lacquer applied, is left to cure for 72 hours, after which it is hand polished to a mirror finish.
Set into the Black Badge Wraith's fascia is a newly created Black Badge clock whose hands are tipped in orange and whose face is adorned by the 'Unlimited' rating infinity logo that previously appeared in the celebrated Phantom Drophead 'Waterspeed', created in 2014 to celebrate the daring of world speed record champion Sir Malcolm Campbell.
The 'Unlimited' infinity logo is also embroidered on the Black Badge's upholstery as black leather combines with vibrant Cobalto Blue to deliver a more edgy feel to the cabin.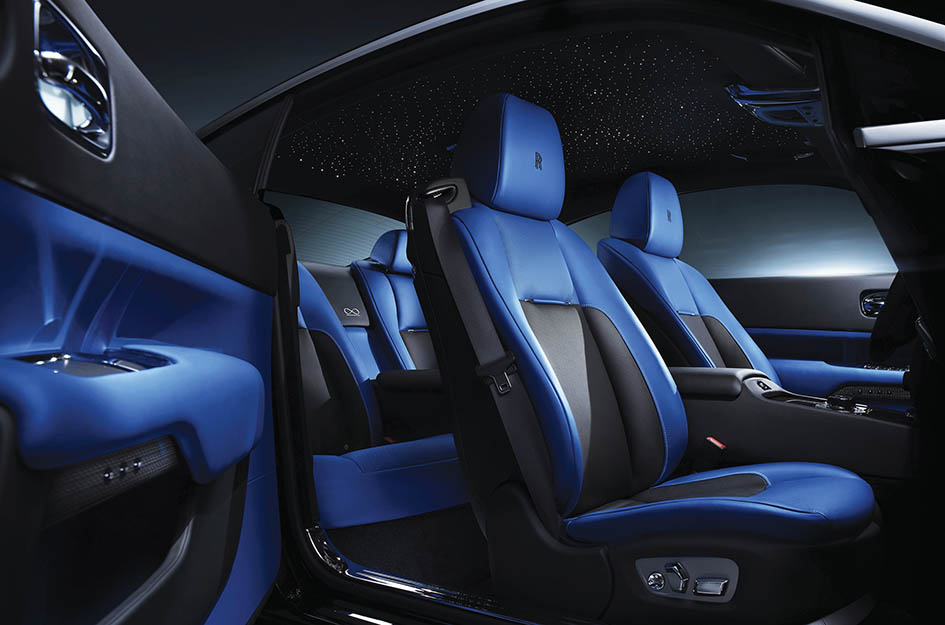 Final Thoughts
Each of the motor cars that host the Black Badge spirit are very different Rolls-Royces – unlike any Rolls-Royce before.
Already the most powerful Rolls-Royce model in the world, the enhancements to the engine, suspension, and steering have transformed the Black Badge Wraith into the most driver-focused car in the Rolls-Royce model range.
Rolls-Royce's engineering team have certainly done both of the company's founders proud with their painstaking work in transforming this most phenomenal fastback coupé into the most spirited, the most subtle, but yet the most powerful vehicle the brand has ever seen in its storied history.