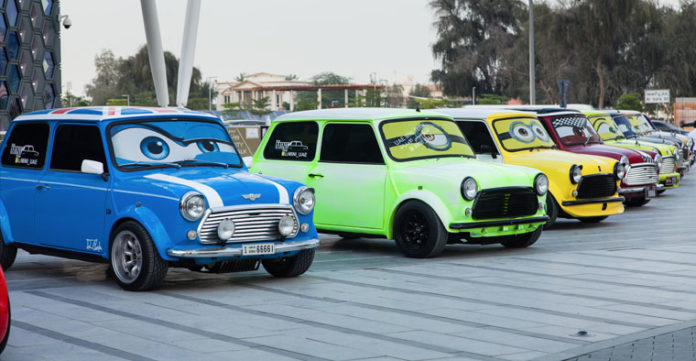 10-day exhibit to highlight Dubai's best classic and modified super cars, bikes, trikes and more
The planet's fastest car, Devil 16 and Nissan patrol that appeared on the last episode of THE GRAND TOUR to be on display
Gaming zones, real drifting experience, underground parties
City Walk is gearing up to welcome the 3rd edition of its annual adrenaline pumping event, 'City Overdrive', between 13 and 22 April at the urban living destination by Meraas. The spectacular 10-day event will see an unprecedented collection of over 85 uniquely modified, super-tuned, 4X4 and classic cars on display, alongside thrilling activities and underground parties for the city's auto enthusiasts to experience all things automotive.
The main exhibit, spread along City Walk's promenade and Al Mustaqbal Street, will be dedicated to an exclusive array of super tuned 4×4, classic and super cars in addition to limited bikes, trikes and monster trucks making it a motor head's ultimate playground. Modified cars on display will include the Devil 16 which is the fastest car on planet Earth, limited edition wide body 86, limited edition 1990 Mercedes EVO 2, Nissan patrol that appeared on the last episode of THE GRAND TOUR much more. Selective car and bike owners groups will also take to the parking area opposite Spinneys supermarket in City Walk to put their cars on show during both weekends.
For the adventurous looking to burn some rubber and go full throttle, City Overdrive will be hosting 'Drift Planet', an exhilarating drifting experience with a professional driver to take you on a spin of a lifetime in the parking area next to The Green Planet for AED 100 per person. Children can participate in all the fun too at the remote-controlled drift tracks set up in the same location. In addition, there will also be a remote-controlled boat race taking place by the City Walk fountains for visitors to also battle it out on water. Activities will take place from 4pm to 10pm daily throughout the motor festival.
If that wasn't enough, the city's best auto tuning companies will be competing to achieve the best car transformation involving engine, interior, exterior, sound and lights as part of a car modification workshop where spectators are promised some incredible paint jobs and custom crafted creations. 'Project Overdrive' will also take place alongside the workshop wherein strategic partners, Top Performance, will completely strip down a classic 1971 Nissan Datson Z240 leaving just its chasse to modify it into something out of this world.
The highlight of the event, however, will be a series of electrifying underground parties hosted by European Mobile Media Association (EMMA), taking place on 14 and 21 April in the basement parking of the destination. Think Tokyo Drift, gorgeously modified cars, open hoods, roaring engines and a sound system competition which will all be a part of the hottest underground party in town. There will also be a resident DJ on the decks spinning pumping tunes making both parties something to remember.
City Overdrive is accredited by Emirates Motor Sport Federation, Automobile & Touring Club of the UAE and General Authority of youth & sports welfare and will be free for all to enjoy. For more information please visit www.citywalk.ae