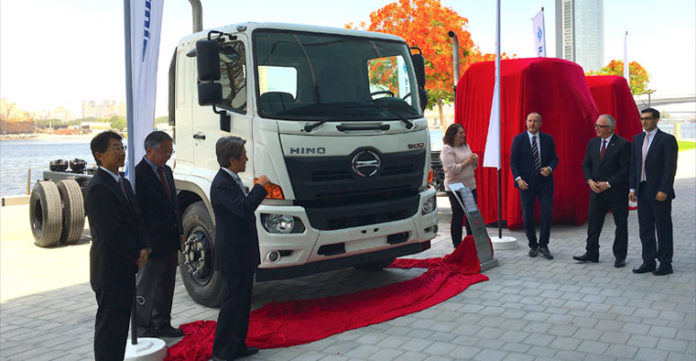 • Redesigned exterior
• New innovative safety features
• Enhanced riding comfort
Al-Futtaim Motors, leader in sustainable mobility and exclusive distributor of Hino in the UAE, has announced the launch of the redesigned medium duty Hino 500 Series truck, the company's second launch in a few months, following the introduction of the Hino 300 series hybrid.
Featuring a redesigned exterior, a host of enhanced safety features and driver comfort amenities, the 2017 Hino 500 Series continues to deliver on the company's promise of quality, durability and reliability, and is purpose-built to suit the needs of the local market to support customers' businesses.
The latest generation of the Hino 500 Series trucks comes with a 7.7 L Euro 3 compliant engine equipped with a high pressure common rail fuel injection system and turbocharger/intercooler technology to achieve lower emissions and uncompromised power and fuel efficiency. The electronic control common rail technology in the engine allows it to maintain power and higher fuel economy performance under any driving condition.
Ramez Hamdan, General Manager of Hino at Al-Futtaim Motors, said: "This year is proving very positive for Hino, as we continue to grow our market share and introduce new products that meet our customers' needs. Just last month, we launched the UAE's first hybrid truck in the form of the Hino 300 Series hybrid, and the introduction of the Hino 500 Series allows us to offer a different solution to meet multiple sectors looking for a reliable truck that offers a host of advanced safety and driver comfort features. With companies increasingly aware of the need to reduce emissions and reliance on fossil fuels, the Hino 500 Series also maximizes efficiency and significantly reduces consumption thanks to class-leading engine and transmission choices.